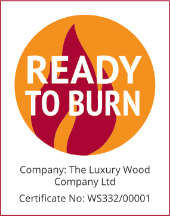 Maple is a less well known species of firewood but when kiln dried it has very similar appearance to Ash yet projects a slightly sweeter aroma when handled.
- Full Crate 1.14 x 1.08 x 1.2m (h)
- Kiln dried to under 20% and Ready to Burn Certified
- Gaining popularity as a replacement for Ash
- White, tight grained wood produces a long bright burn time
- An all around "Premium" firewood
Maple firewood is a true pleasure to burn. Our crates of kiln-dried maple logs are incredible value for money. Packing the kiln-dried logs tightly into these crates makes it possible to get 50% more wood than the same volume you get in loose or bulk bagged loads.
- Full crate dimensions: 1.145m x 1.05m x 1.2m (external) / Loose Vol.: 2.0 m3
- Moisture Content: 10-20%
- Log Length: 25cm
- Type: 100% Kiln Dried Maple
When buying firewood for your wood burner, open fire, pizza oven or outdoor fire pit, it is always important to ensure the logs you buy have been properly dried. Our beech kiln dried logs are dried to below 20% moisture content, giving you a much cleaner, hotter, consistent burn with little smoke. We have sold kiln-dried beech log crates to tens of thousands of customers throughout the years, and the feedback we have received is always amazing. Do not hesitate to order this best-selling beech firewood today!