The Pros and Cons of Timber Fencing
Timber is the most popular material for fencing in the UK. It has been a preferred choice for homeowners due to its looks and natural qualities. Of course, timber fencing has its advantages and disadvantages.
Let us take a closer look at why timber fences may be a good choice for you and why they may not.
Timber Fencing Pros:
Stylish and Has a Wide Range of Designs - Timber fencing comes in a variety of styles and hues, so you are sure to find a look that complements your garden and home. The material gives an elegant, timeless feel to any outdoor space. Read about the versatility of timber fencing later in this article.
Easy to Install - This type of fencing is easy to anchor and secure without much or any assistance. Timber fence posts and rails, as well as boards, are significantly lighter than other materials, which makes them easier to handle.
Affordable - Timber is the most cost-effective material on the market and will help you stay on budget.
Natural Look - It helps bring your home closer to nature. Regardless of whether it's an urban area or a modern neighbourhood, timber blends seamlessly with the surroundings. You don't need to worry about painting or changing your fence colour in any way.
Environmentally Friendly - Natural timber that is sourced in an ethical and sustainable way is considerably more environmentally friendly than concrete, for example. There are special programmes in place to guarantee proper forest management practices.
Privacy - Timber fencing can provide high levels of privacy in terms of available panel height and width options.
Timber Fencing Cons:
Susceptible to Weather Damage - This is due to two main factors - moisture and UV rays.

- SOLUTION: To avoid weathering, apply a coating. Waterproof sealants protect the timber from rot, are budget-friendly, and need to be reapplied every year. Stains are more expensive and harder to apply but protect against UV damage and last longer (3-4 years).

Timber Changes Colour Over Time - Timber is prone to colour changes and tends to turn grey as a result of UV light. While it doesn't affect its function, you may wish to prevent the discolouration for aesthetic reasons.

- SOLUTION: Sealing or staining your fence will prolong its natural colour. Apply and re-apply once every year protective coating for timber. It will help you protect the material from UV rays, colour change and water damage

Susceptible to Rot, Warps, and Damaged by Insect Attacks - With timber used for outdoor projects, it's normal to expect some wear and tear over time. However, there are ways to extend the lifespan of your timber fence with proper care.

- SOLUTION: It's best to protect timber by sealing/staining it before any damage occurs. If rot is already present, cut the rotting pieces and/or replace damaged boards. Make sure to act swiftly as rot can spread easily.

Variable Quality -

- SOLUTION: Ensure that you purchase your timber from reputable sources and always check grading. This doesn't only apply to boards, but poles as well, as they guarantee the structural integrity of your fence. Luxury Wood only supplies A/B-graded, sustainably sourced fencing materials.

Shorter Lifespan Compared to Other Materials - How long timber fence posts last depends on the climate, the type of wood, and how well it's maintained. The same goes for boards, with an average of 15-30 years.

- SOLUTION: Use pressure-treated timber. It has a longer lifespan of up to 40 years without any rot or decay. As a general rule, horizontal fences are more durable than vertical ones.
The Luxury Wood Company Timber Fencing Products
Image
Product
Benefits
Sizes
Use and Appearance

FENCE POSTS

•

Pressure treated and incised for stability and durability


•

US4-graded


•

15-year warranty

75 x 75 x 1800
75 x 75 x 2400
100 x 100 x 2400
100 x 100 x 3000

Pointed:
75 x 125 x 1800
75 x 150 x 1800

•

Suitable for domestic, agricultural and commercial use


•

Natural, light green shade

FEATHEREDGE

•

Provide versatility and flexibility


•

Quality incised and pressure treated


•

Cut from spruce - the recommended timber for creating featheredge panels


•

15-year warranty

11/22 x 125 x 1200

11/22 x 125 x 1650

11/22 x 125 x 1800

11/22 x 125 x 2400

•

Perfect for projects with uneven surfaces


•

Ideal for creating close board fencing panels


•

Natural, light green shade

GRAVEL BOARDS

•

Extend the life of your fence and ensure the stability of featheredge panels


•

Gravel boards at the bottom of your fence are cost-effective


•

UC3-graded


•

Pressure-treated


•

15-year warranty
22 x 150 x 1800
22 x 150 x 2400
22 x 150 x 3000
22 X 150 X 3600

•

Perfect for vertical pales on any fence that requires more strength


•

Install at ground level to limit moisture and contact with soil


•

An alternative to Oak sleepers for edging, boards or planters


•

Natural, light green shade

SQUARED FENCING RAILS

•

Heavy-duty, strong and dense


•

UC3-graded for "Permanent Outdoor Exposure"


•

Pressure-treated


•

15-year warranty
38 x 75 x 3600
38 x 87 x 3600
38 x 100 x 3600
47 x 75 x 4800

•

Perfect for domestic, agricultural or commercial fencing projects


•

Suitable for supporting garden fencing, supporting trees, creating tree guards, and creating tree shelters


•

Natural, light green shade

ARRIS FENCING RAILS

•

Provide stability and longevity of your fence


•

UC3-graded


•

Pressure-treated


•

15-year warranty
75 x 75 x 2400
75 x 75 x 3000
75 x 75 x 3600

•

Cut in a triangular shape at 45 degrees


•

Often combined with notched fence posts and featheredge timber fencing boards


•

Can be used as internal corner supports and raised beds


•

Natural, light green shade

CANT FENCING RAILS

•

Prevent rainwater and moisture build-up between post and rails


•

UC3-graded for "Permanent

•

Outdoor Exposure"


•

Pressure-treated


•

15-Year Warranty
47 x 125 x 3000
47 x 125 x 3600

•

Trapezoid shape


•

Suitable for domestic and industrial projects


•

Natural, light green shade
Best Styles for Timber Fencing (Inspiration ideas)
Timber fences come in a wide variety of shapes and styles that can match your personal preferences and the intended look of the outdoor space.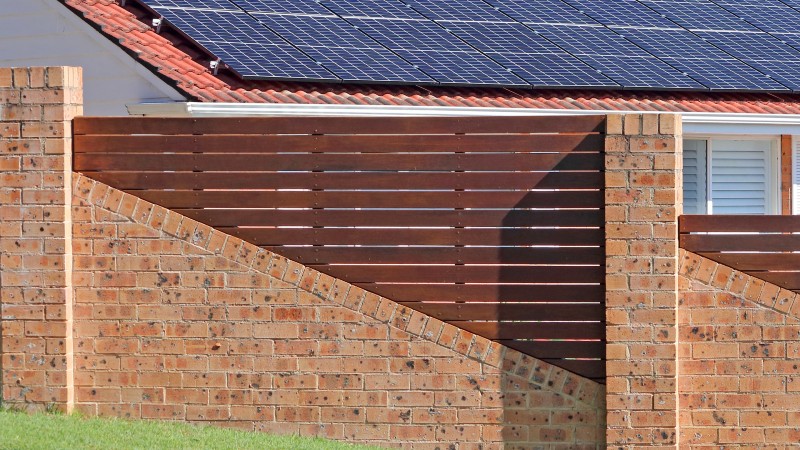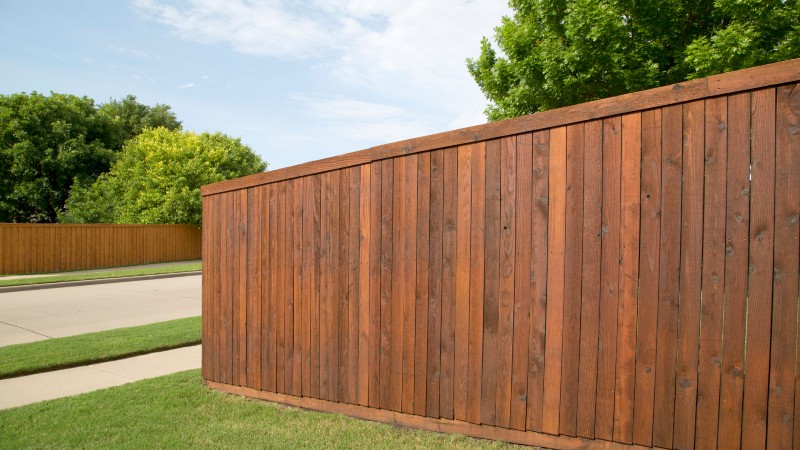 Close-Boarded Timber Fence (featheredge)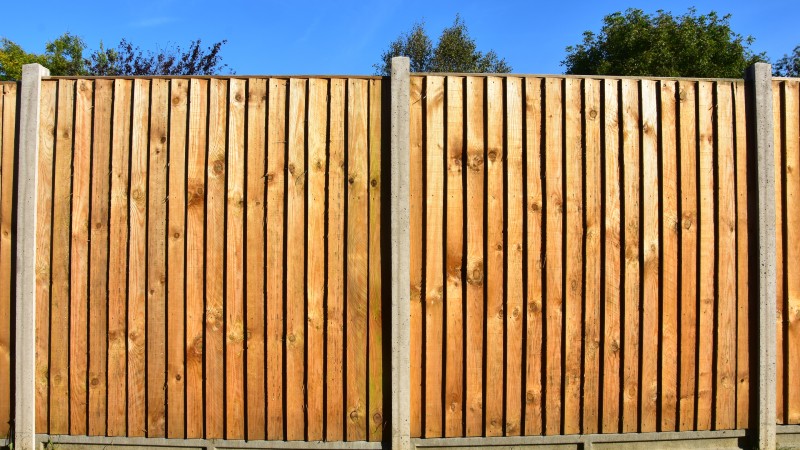 Timber Hit and Miss Fence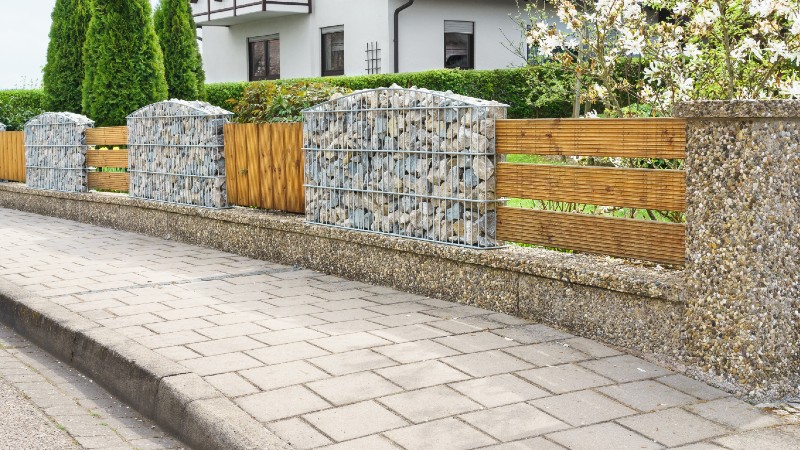 Horizontal timber fences are a classic choice. They provide a simple, yet stylish look to any home or garden. They're also suitable for land with a slope, as they can be terraced if desired. If you're aiming for maximum privacy, you can opt for a solid timber fence or a close-boarded timber fence (made from overlapping featheredge boards). Alternatively, a horizontal slat fence, or semi-solid fence, gives some level of visibility.
There are various vertical options as well. For example, picket fences are the ultimate traditional choice that lets plenty of light through. Timber hit and miss fences, where the vertical boards are alternately fixed on the front and the back of the horizontal rail, also put a beautiful touch and look good from both sides of the panel.
And if you're looking to create a modern timber fence, feel free to apply a tinted coating or add gabions for a contemporary touch. You can even install a garden trellis topping. On the other hand, homeowners who would like a more rustic feel at a lower cost may choose a landscape timber fence. Low-level timber fencing is also a great option to create boundaries without blocking the view.
Timber Fencing Maintenance Tips
To keep your timber in top shape, there are several steps you can take:
Get rid of mould - There are effective homemade remedies for mould such as an acidic mix made from equal parts of white vinegar and water. Spray, let dry, and wipe the surfaces with a moistened cloth, then a dry towel.
Cutaway spots of rot - If any section of your timber fence has been overcome with mould, make sure to remove the infected patches to protect the rest of your fence.
Clear away leaves from the fence - If any leaves accumulate at the bottom of your fence in the autumn, rake them away to prevent excessive moisture from building up.
Clean your fence prior to sealing or staining - Clean well and let dry completely before applying any product. Sturdy fences can be washed with a power washer.
Seal with a waterproof material - As we mentioned earlier, this step will work wonders in protecting the wood from the elements. Pick a suitable product and reapply as often as necessary. Posts are specifically prone to rot, so you can pre-treat them before installation.
Timber fences are an all-time favourite for homeowners across the UK due to their stylish and classic appearance. Vertical, horizontal, solid, or slatted, they come in various shapes and sizes. Despite a few disadvantages, with proper care, timber fences can retain their looks and strength for a long time.