9 things to consider when building a deck
Decks are a wonderful way to enjoy the outdoors. Whether it's to spend some time alone savouring the peace and quiet or to entertain guests or family members, they make a great extension to our house. Not to mention the value they add to the property. However, before deck building, there are several things you need to consider. We've compiled a list to help you in the decision-making process.
Decking in the garden
: key decisions
Planning, designing, and building a decking requires you to decide on the following things:
-

Functionality and purpose - Think about how you're planning to integrate the deck into your lifestyle. Can it be used only in the summer or year-round? Would you like to split the deck into different areas or sections? Are you looking for privacy or an opportunity to chat with your neighbours? Is it meant to surround a pool or serve as an outdoor dining area?
- Design/style of the deck - Do you want a deck that blends in with the surroundings or stands out as a feature? Will it be attached to the house or free-standing? Are you going with a classic shape (square, rectangle) or something more distinct (curved, octagon)? Can it accommodate a multi-level design? Would you like to incorporate built-in storage for outdoor cushions or garden tools, for example?
- Location

- Sometimes there is a single, obvious place where a deck should go but other times, there may be several possibilities. Think about factors like the size of the deck in comparison to your property; sun exposure and wind currents

affecting your comfort; potential for scenic views; easy access to the house; etc.
- Budget

- Your budget will determine the design, size, and materials of your deck. A DIY

deck-building

project is cheaper, but more complex designs may need you to involve

professionals, so plan for labour costs. Additions to your deck such as flower boxes, railings, built-in seating, and lighting should also be included in the overall budget in order to avoid surprises.
- Decking materials

- When

building a deck, the supplies

you use will determine its durability and level of maintenance. You can choose between real wood, composite materials (composite decking), pressure-treated wood, plastic or aluminium, etc.

Decking wood boards

made

from

premium hardwood

(larch, oak) are naturally durable and remain relatively comfortable underfoot even on the hottest days.

Pressure-treated wood

(spruce, pine) contains preservatives for weather resistance but does still require refinishing. And

what is

composite decking

? It contains recycled wood fibers and plastics, making it very easy to maintain, but at a higher cost than wood. As for

PVC boards

, they're entirely synthetic and thus water and mould-resistant, but they don't quite look like natural wood.

Aliminium boards

have an excellent lifespan and quickly dissipate heat, however, they're more expensive than other alternatives and give an entirely different feel.
- Maintenance

-

How long does decking last?

This depends on the materials and the amount of care you provide. Natural wood decks are the most demanding. They need annual refinishing, which may sometimes require sanding to remove the old finish. Pressure-treated wood requires half the maintenance of a natural wood deck, in the form of refinishing with a clear sealer or stain every other year. Composite-material decks don't need refinishing, but you should clean them thoroughly every 3-4 years to avoid mould. PVC and aluminium require the least maintenance.
- Deck lighting

- Lighting adds a special ambiance to any deck, as well as some safety. If you're eager to install wired lighting, you need to include them in your building plan. Alternatively, you could add solar lights. Some types you could consider include path lights, recessed step lights, overhead lights, and wall or post-mounted lights, among others.
- Privacy

- If your deck is not as private as you'd like, you can add a privacy screen. The options range from wooden fences, trellis, and curtains, to a living privacy fence made from plants. Common plant varieties include Magnolia Grandiflora, Star Jasmine, hedges of Photinia, Leylandii, or English Yew, and grasses like Miscanthus Sinensis and Feather Reed Grass.
- Building codes

-

Do you need planning permission for decking

? Consider local regulations on additions and remodeling projects - you may need a special permit or have your design approved in advance.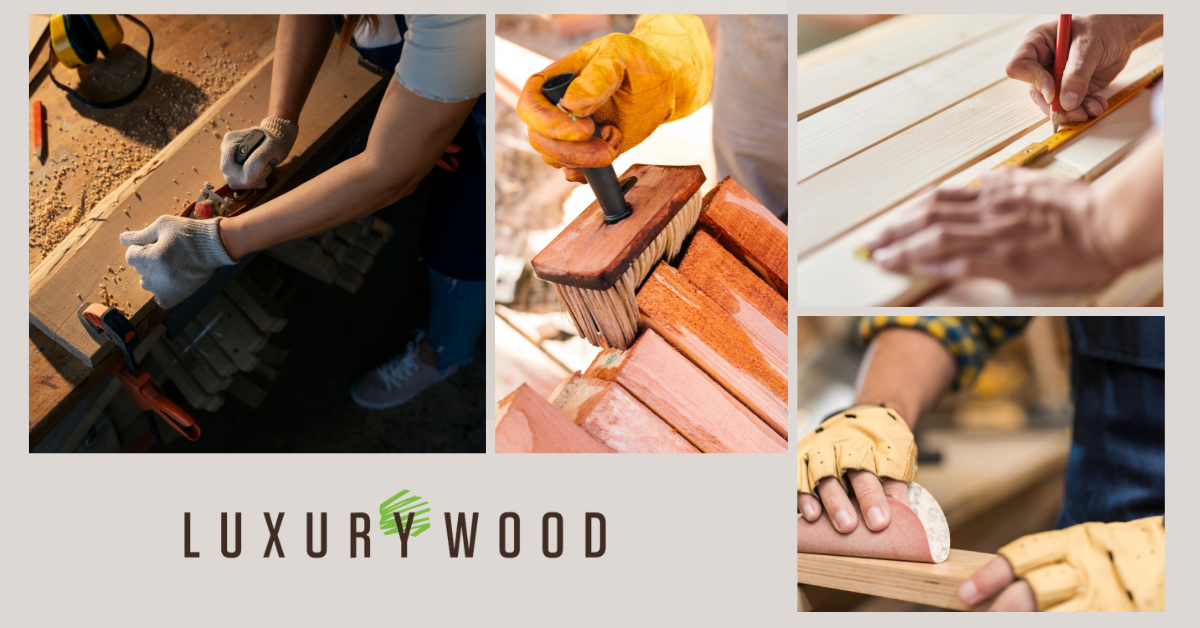 Decking design ideas
Below you can find some interesting concepts to implement in your deck design. You may be familiar with some of them, but we hope you'll get a few fresh ideas to try out.
- Turn your deck into a second living room by incorporating cushions, throw pillows and blankets, and even a rug to create a cozy, homey feel.
- Prepare it for dining with a large table, stackable chairs, and a bar cart.
- An outdoor kitchen is another great way to create an outdoor living area. Depending on your ability to run electricity, water, or gas, as well as on your budget, you can build an entire kitchen or just a grilling island for example.
- Cover your deck: A pergola will provide much-needed shade in the summer. In addition, a permanent roof or retractable awning can also protect from rain, extending the use of your deck well into autumn. What's more, if you want to protect your deck and enjoy the outdoors even in freezing winter temperatures, you can enclose it using clear vinyl siding or curtains, etc.
- Use the same materials as your deck to build a frame around your pool and create a gray visual flow.
- Consider installing a fire pit, fire table, or fireplace on your deck for a cozy atmosphere even on colder days.
- If you have a scenic view, opt for a glass barrier instead of a solid fence.
- Design a feature wall by painting a wall close by in a vibrant colour such as a vivid blue or ochre yellow. Install shelves and decorate them with planters and other garden decors.
- Create some family fun by incorporating a slide for the children to quickly get from one level to another.
- Choose a theme and build your own getaway: For a nautical vibe, paint your deck with blue and white stripes. Or add a tropical vacation feel by choosing rattan furniture and painting your rails white.
- Finally, an exotic yet very romantic idea: Add an outdoor shower or tub, especially on a beach house deck that offers enough privacy.
We hope you enjoyed our advice on the planning stage of deck building. Don't miss our upcoming article with more details on the construction process, e.g. how to build a decking frame and more.