How to choose the best firewood?
Choosing the best firewood for yourself can seem like a daunting task. There are different firewood categories, tree varieties, and the whole softwood vs hardwood debate continues to baffle the best of us. Ultimately, picking the most suitable firewood depends on your budget, what type of fireplace you have and the size of the room you are trying to heat. Read below to find out how to choose the best firewood for you and what to look out for.
Seasoned or Kiln-Dried Logs?
Moisture content is the most important aspect when it comes to firewood. The drier it is, the better it will burn. In fact, as of February 2021, in an effort to improve air quality, the UK government now only permits the sale of firewood that has 20% moisture or less. To release moisture, wood can be either air seasoned or kiln-dried. Both methods achieve the goal of drying wood, but the processes have some differences. For example, kiln drying is much faster, taking just a few days and pushing wood down as low as 12% moisture, while seasoning takes at least 12 months or 2 summers and usually only achieves 20-25% moisture.
Another benefit of using a kiln to dry firewood is that the process kills all insects and parasites, thus protecting your home from unwanted pests. Plus, it's easier to control the wood's moisture content when kiln drying, making the process more effective than air drying. Last but not least, properly dried firewood will also minimise sooty deposits in your chimney, thus reducing the risk of a chimney fire and flue damage. DEFRA (the Department for Environment, Food and Rural Affairs) has prepared a helpful resource on getting the most from your stove by selecting well-dried firewood.
Ready to Burn Certified Firewood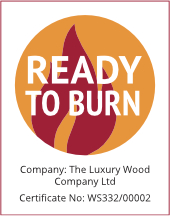 A great way to determine the suitability of firewood is by looking for the 'Ready to Burn' label, because then you can be sure it will be dry. As per regulations in England from 1 May 2021, any wood fuel sold in volumes of under 2m3 must be certified as Ready to Burn. Companies selling Ready to Burn accredited firewood undergo a strict audit and quality checking process to ensure their firewood is only the best.
Those purchasing loose wood in quantities of 2m3 or more must be provided with information on how to store and season the wood, in order to prevent premature burning. So if you're wondering 'What is the best firewood for a wood-burning stove?' for example, picking wood certified as 'Ready to Burn' is simply the safest bet.
Types Of Firewood
Wood is commonly divided into hardwood and softwood types. "Hardwood", the name given to trees which are angiosperms - produce seeds that are covered with skin or a shell (these are deciduous trees that usually grow more slowly, often resulting in higher wood density). Whereas the term "Softwood" refers to gymnosperms (e.g. conifers), which usually remain evergreen, and are often less dense due to the fast pace at which they grow. This can be misleading, however. For example, Larch (technically a softwood) is actually more dense than Alder (technically a hardwood).
Density is important as denser wood burns longer and produces more heat, and this is why generally people desire hardwood for firewood. Hardwood also makes great firewood because of its low levels of sap and resin. In order to grade firewood from best to worst, UK experts also take into consideration things like a tendency to spit, ease of splitting, time required to season, etc. This has resulted in useful resources such as this best firewood to burn chart.
Some common hardwoods used as wood fuel in the UK include Oak, Ash, Beech, Birch, Alder, Hornbeam, and Maple. When purchasing firewood, you can combine different types depending on your needs. For example, an Ash and Birch combo will provide the aroma of Birch and the high heat value of Ash. Or you can mix Ash with Oak and benefit from oak's lasting heat and very slow-burning speed. Buying some of your hardwood in nets also makes it easier to carry.
Firewood Comparison Table
Firewood Name

Type of Firewood

Characteristics

Density*

(kg/m3)

Smoke

Fragrance

Grade

(1=Poor, 4=Excellent)

Oak

Hardwood

One of the best firewoods. Gives off a good, very long-lasting heat. Great burn duration.

Best used for: larger stoves, overnight fires, and open fires.

720

Low

Slight

4

Ash

Hardwood

One of the best firewoods. Brighter flame than oak, high heat output, good burn duration.

710

Low

Slight

4

Birch

Hardwood

An excellent firewood but burns quickly and intensely.

Best used for: modern stoves that can control burn rate, pizza ovens and outdoor cooking.

670

Medium

Slight

3.5

Hawthorn

Hardwood

A good firewood. Burns steadily producing a good heat. Difficult to split.

785

Low

Slight

3.5

Beech

Hardwood

Great firewood, producing a hot, clean fire. Burn rate between Ash and Oak. Can be expensive.

720

Low

Good

4

Hornbeam

Hardwood

Burns well and slowly, producing a bright flame.

750

Low

Good

3.5

Hazel

Hardwood

Excellent wood. Emits beautiful purple and yellow flames.

640

Medium

Good

4

Maple

Hardwood

Burns well and emits a good level of heat. Gorgeous aroma.

630

Low

Good

3

Alder

Hardwood

Low heat firewood but very economical.

Best used for: chimineas, small rooms, summer burning.

440

Medium

Slight

2

Apple

Hardwood

Burns steadily with a reasonable heat, a pleasant smell and no sparking or spitting.

660

Low

Excellent

3

Cherry

Hardwood

Burns slowly with a pleasant smell and a good heat output without spitting.

630

Low

Excellent

2.5

Pine

Softwood

Burns hot with a pleasant aroma, but leaves an oily soot in the chimney and spits excessively.

Best used for: kindling.

500

Medium

Good

1

Cedar

Softwood

A good firewood which burns with a pleasant smell and gives a lasting heat, but can spark.

580

High

Good

2

Larch

Softwood

Poor firewood. Provides a good heat but spits excessively while burning and leaves oily deposits in the flue system.

500

Low

Slight

1
*Values are average and may vary due to different factors.
Types Of Firewood To Avoid
When purchasing firewood, it's important to steer away from wood that can be hazardous. One such example is the so-called 'green wood'. This is wood that hasn't been dried at all after harvesting and contains too much moisture to burn efficiently. Burning green wood produces creosote-filled smoke, which causes creosote to build up in your chimney, creating a major fire hazard. This is precisely why the latest UK DEFRA regulations state that wood purchased after February 2021 must have no more than 20% moisture.
Another thing to avoid is pressure-treated or painted wood as it releases harmful chemicals into the air. The same goes for driftwood. If collected from the ocean, it contains high levels of chlorine which is converted into toxic chemicals when burned. Freshwater driftwood, on the other hand, has a very high moisture content. Burning rotten and mouldy wood is also inadvisable. Both rotting and mould indicate that the wood has been exposed to moisture. Putting mouldy firewood in your stove or fireplace will also release mould spores into the air, which cause problems for people with asthma, allergies and other issues, and may promote indoor mould growth. You should avoid purchasing big wood that is too long or too thick to fit in your fireplace.
Conclusion
To sum up, the type of firewood you choose for your home depends on your specific needs. If you need help choosing, feel free to reach out to our consultants by phone on 0115 697 1118. They will provide the best advice and assist you in making an informed choice.