10 Decorating ideas with Live-edge boards
Live-edge wood boards (also known as waney boards) are a wonderful way to add a natural, rustic feel to your home. They're very versatile in terms of application - you can use them for different types of furniture, shelving, and more.
In the article below, we've collected some beautiful live-edge wood ideas that you can apply to your home and garden. We hope they help you find the inspiration and motivation needed for your next project!
Live-edge wood ideas
Form or function? Live-edge wood items can be both beautiful and functional, perfectly fitting in as part of your interior design. If you're about to embark on a new DIY project but haven't decided on the exact design yet, explore the ideas below.
Live-edge wood tables
These tables deserve a section of their own because this is by far one of the most common uses for live-edge boards. You can use them to build an astonishing dining table for your dining area. Depending on your preferences, it can be big enough to fit six, eight, or even ten people. Some carpenters add epoxy resin to create the so-called "epoxy river tables" and add a splash of color to the dining room. Some go as far as placing various items inside the resin, such as seashells, dried flowers, glitter, and more.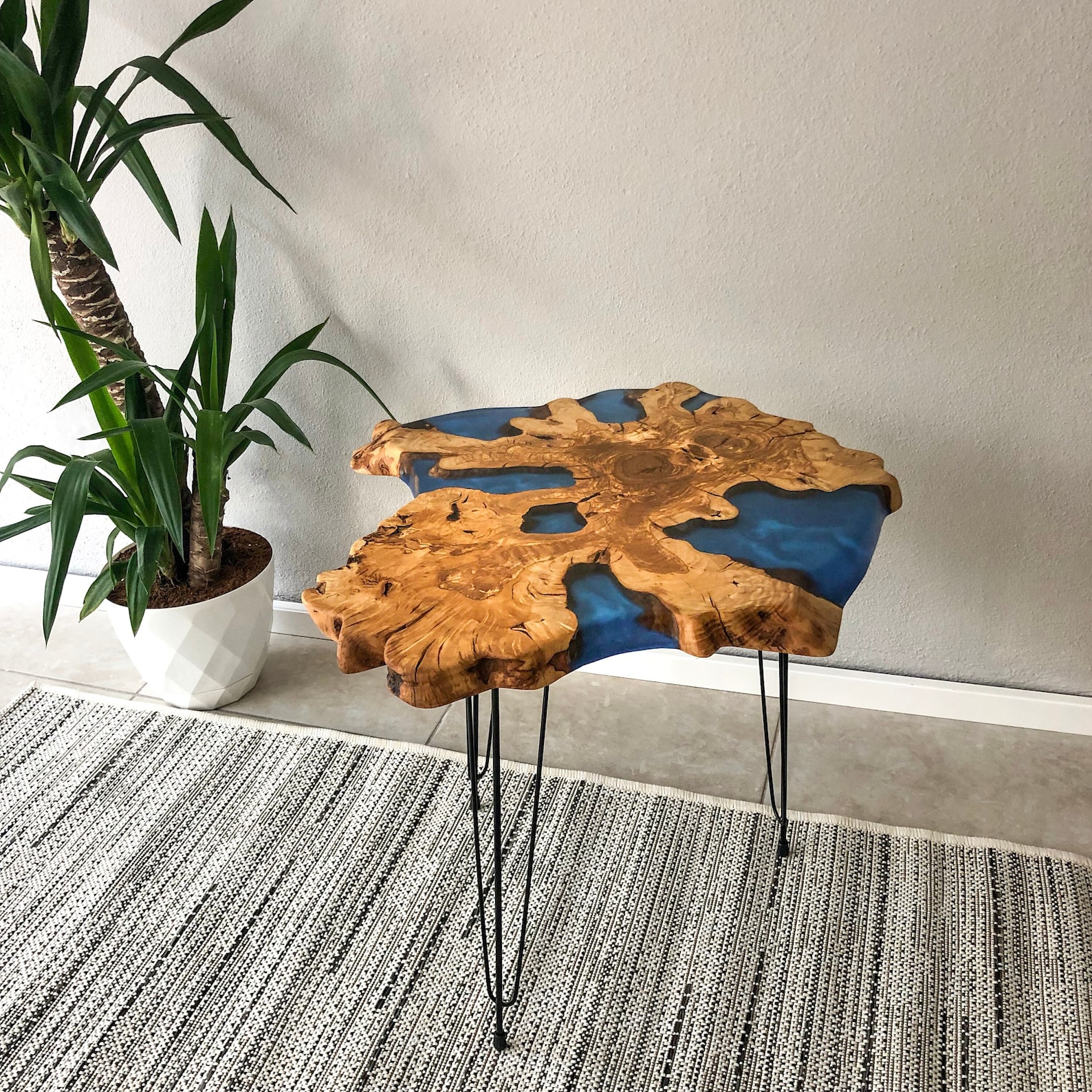 Image source: LesaWoodDecor from etsy.com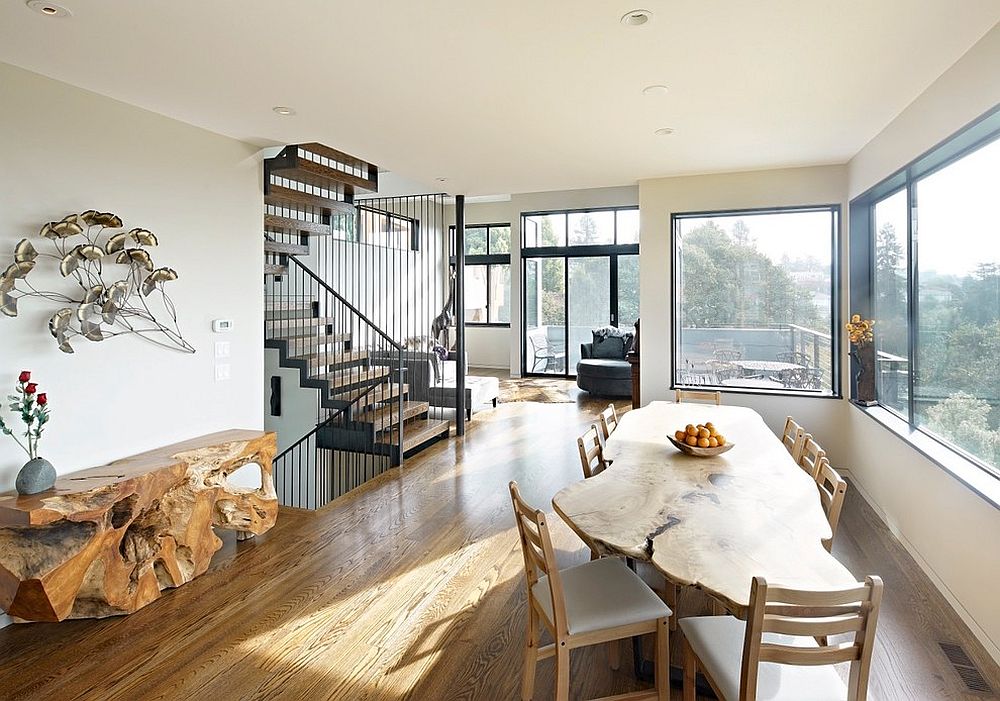 Image source: decoist.com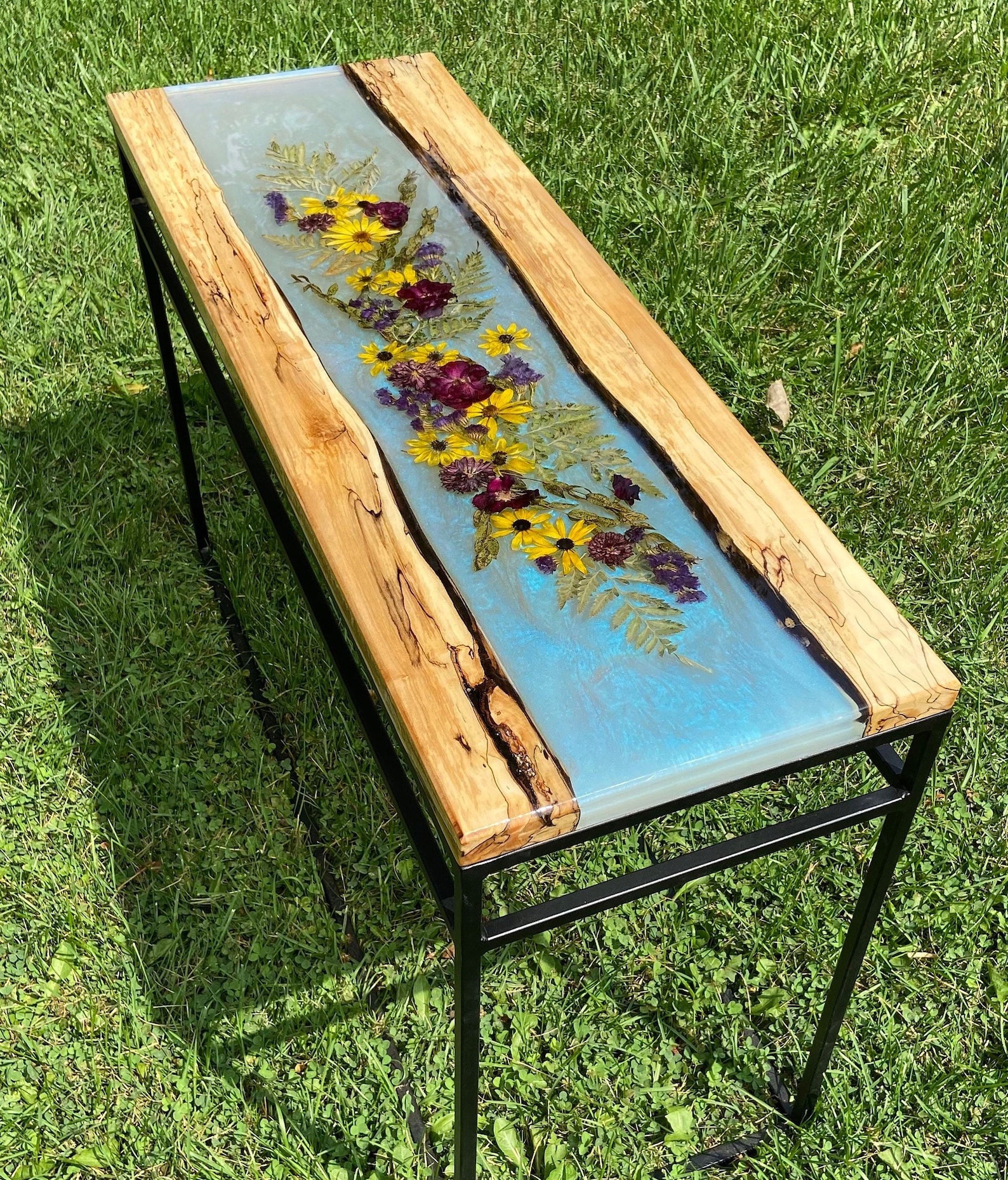 Image source: BuppWoodworks from Etsy.com
There are plenty of live wood coffee table ideas as well that one can get inspired from. From larger rectangular ones to smaller irregularly-shaped ones, these tables will add a stunning natural accent to your living room. Designers experiment with different legs, for instance, hairpin legs, solid metal legs, or wooden legs. If you're building the table yourself, you can even repurpose the legs from other furniture, such as old tables or chairs.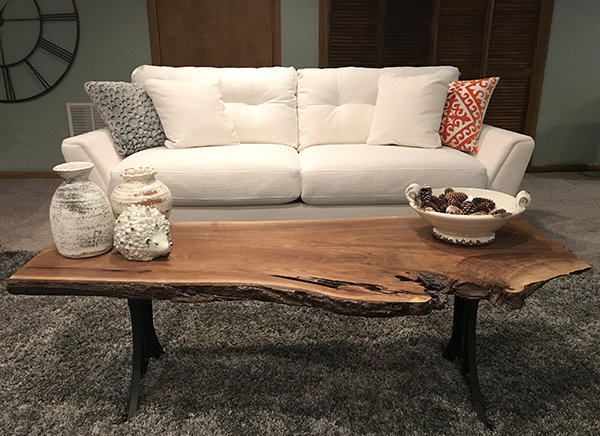 Image source: Woodcraft.com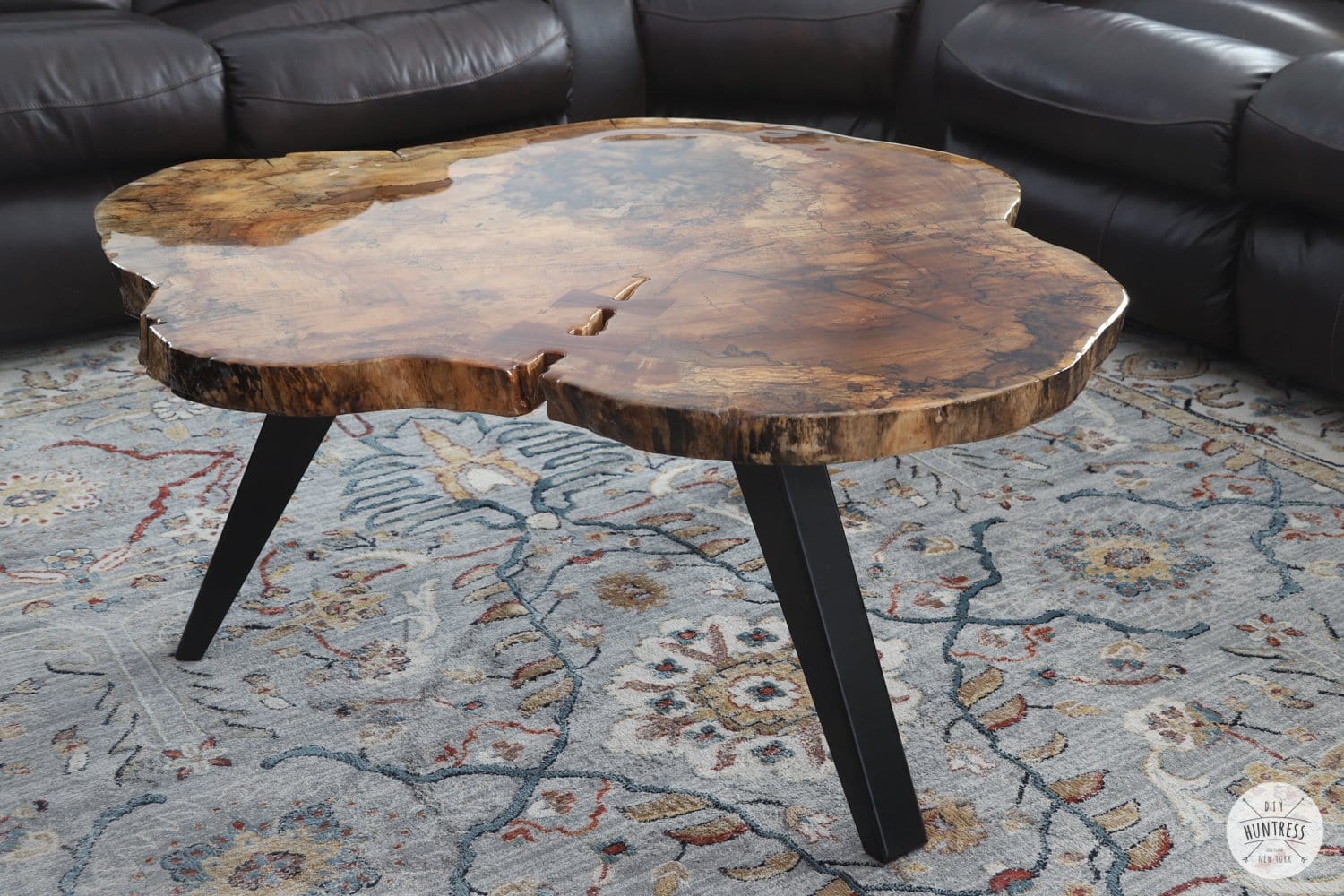 Image source: diyhuntress.com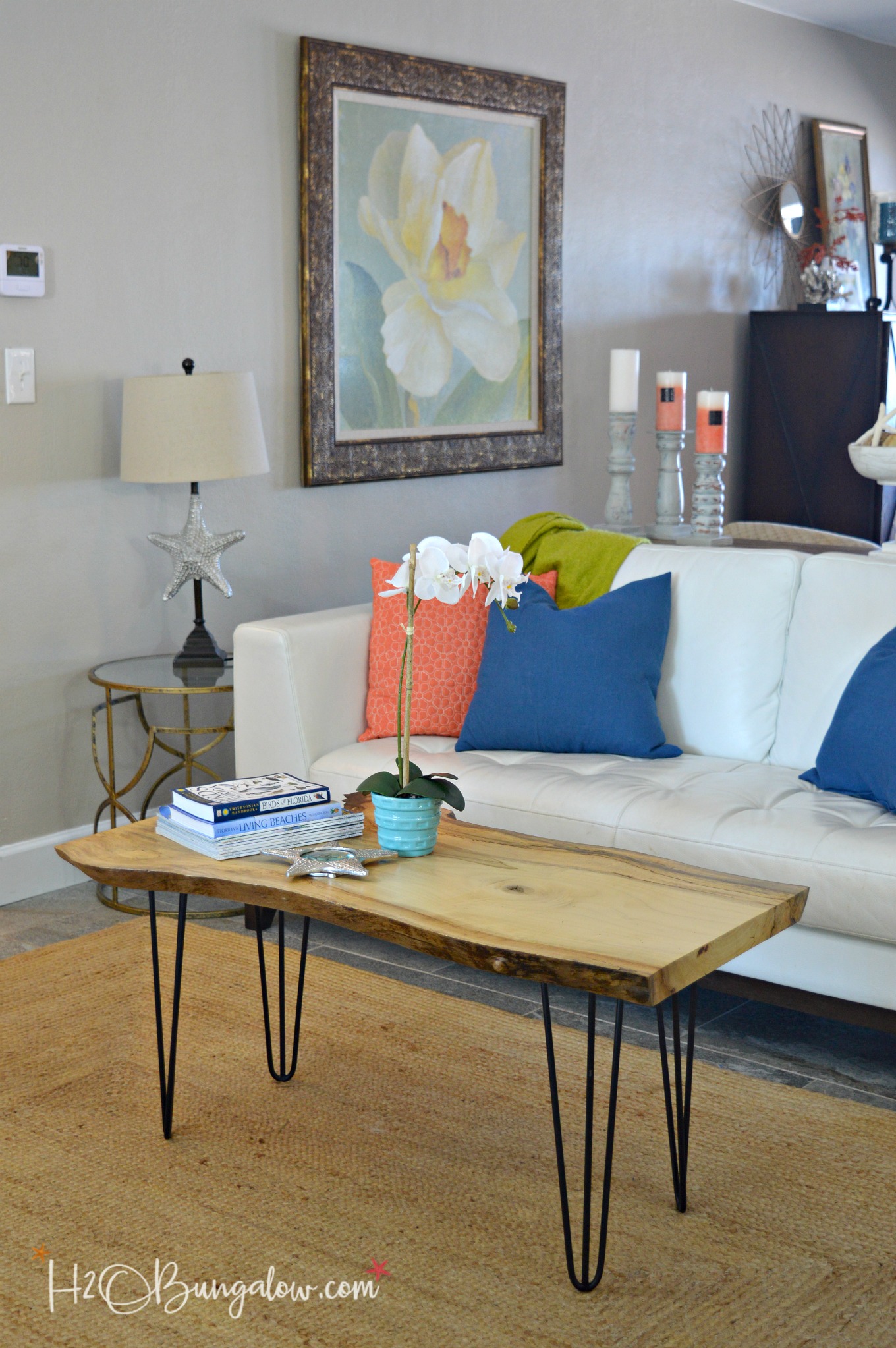 Image source: h2obungalow.com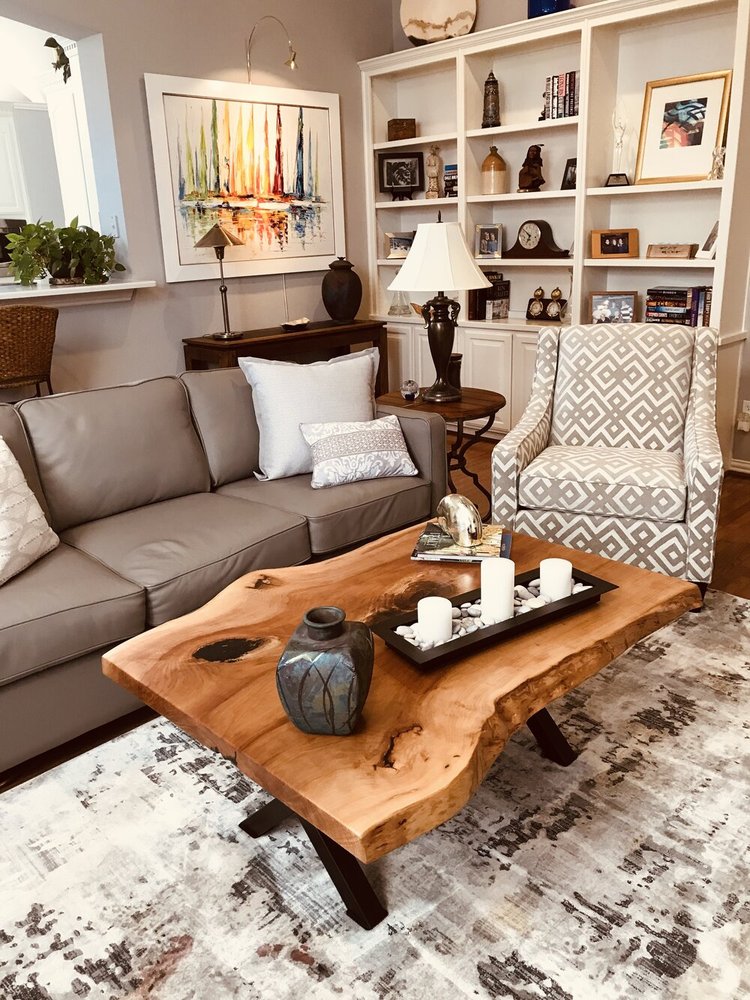 Image source: rustictrip.com
Live-edge wood furniture
There are plenty of additional furniture items you can build from live-edge boards. For example, you can build a unique bench to complement your table. You can also create some beautiful floating shelves to place above a cabinet. Try adding some interesting lights and plants to improve the ambiance. If you're looking for more storage space, try building a live-edge shelving unit. You can incorporate live-edge boards as both horizontal and vertical elements. You can even install a live-edge board as a window sill. It's a wonderful way to create a cozy corner, so you can sit by the window enjoying a good book or a cup of tea.
In the kitchen, have you thought about a live-edge countertop? Each live-edge board is unique and brings the warmth and beauty of natural wood. Live-edge bar tops are yet another great way to add additional seating to your home. And if you're looking for a unique place to store your wine bottles, consider a raw edge wine bottle shelf.
And did you know you can even build a shelf to store your shoes? That's an extremely practical way to include live-edge wood boards in your hall. You can even complement the design with a shoe bench - you can get creative and add interesting angles to create a more contemporary look.
Your bathroom can also benefit from a piece of live-edge wood furniture. A live-edge vanity top can add a natural touch to any space, both modern and traditional. Even your laundry room will look chic with some live-edge surfaces!
Those working from home would surely appreciate a wooden desk made from live-edge boards. With its rustic elegance, it will entirely change the look and feel of the room.
Finally, the bedroom. Consider a live-edge wooden headboard to set your bedroom apart and give it a sense of warmth. The headboard can either be attached to the bed, be a free-standing one, or be hung on the wall as art.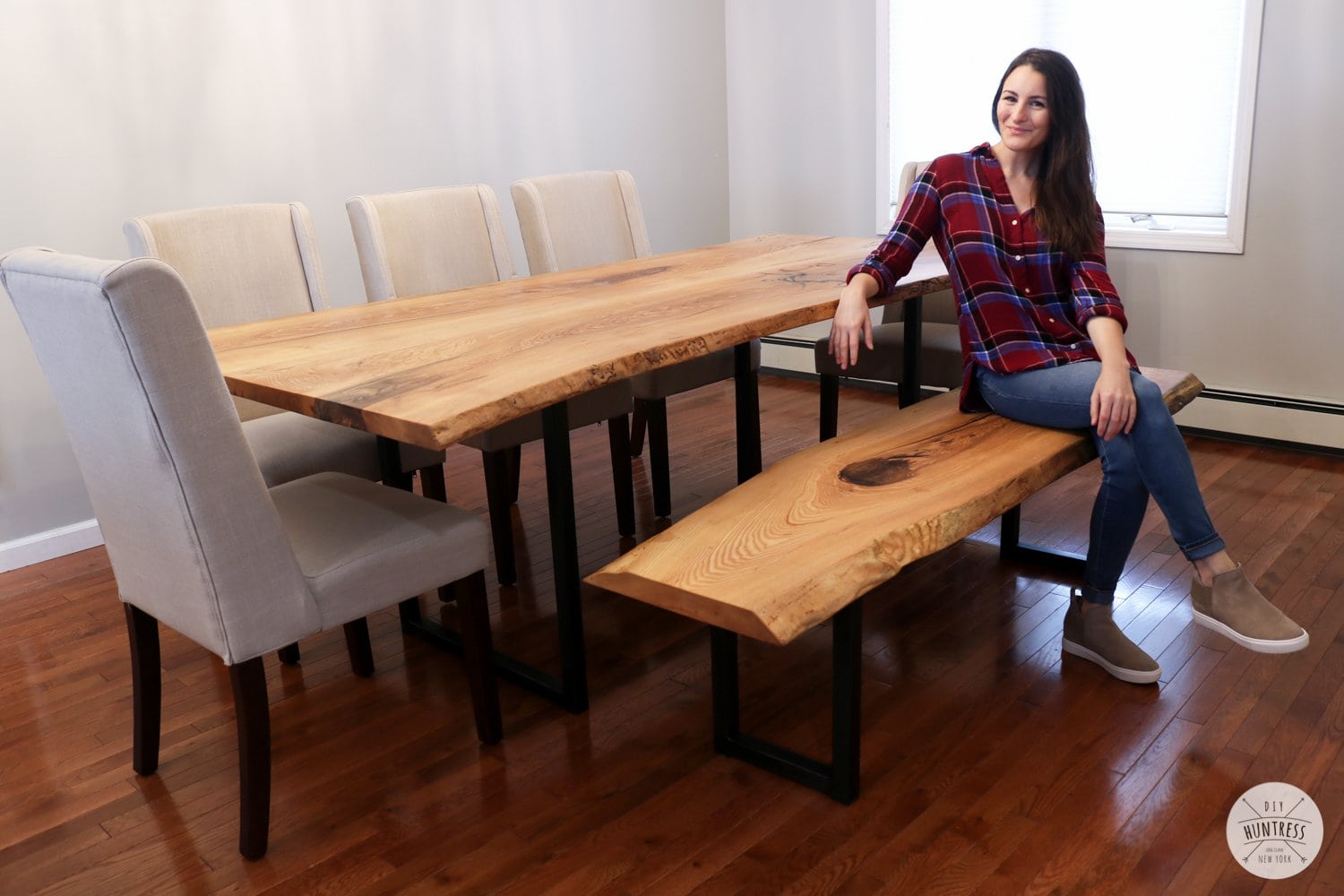 Image source: diyhuntress.com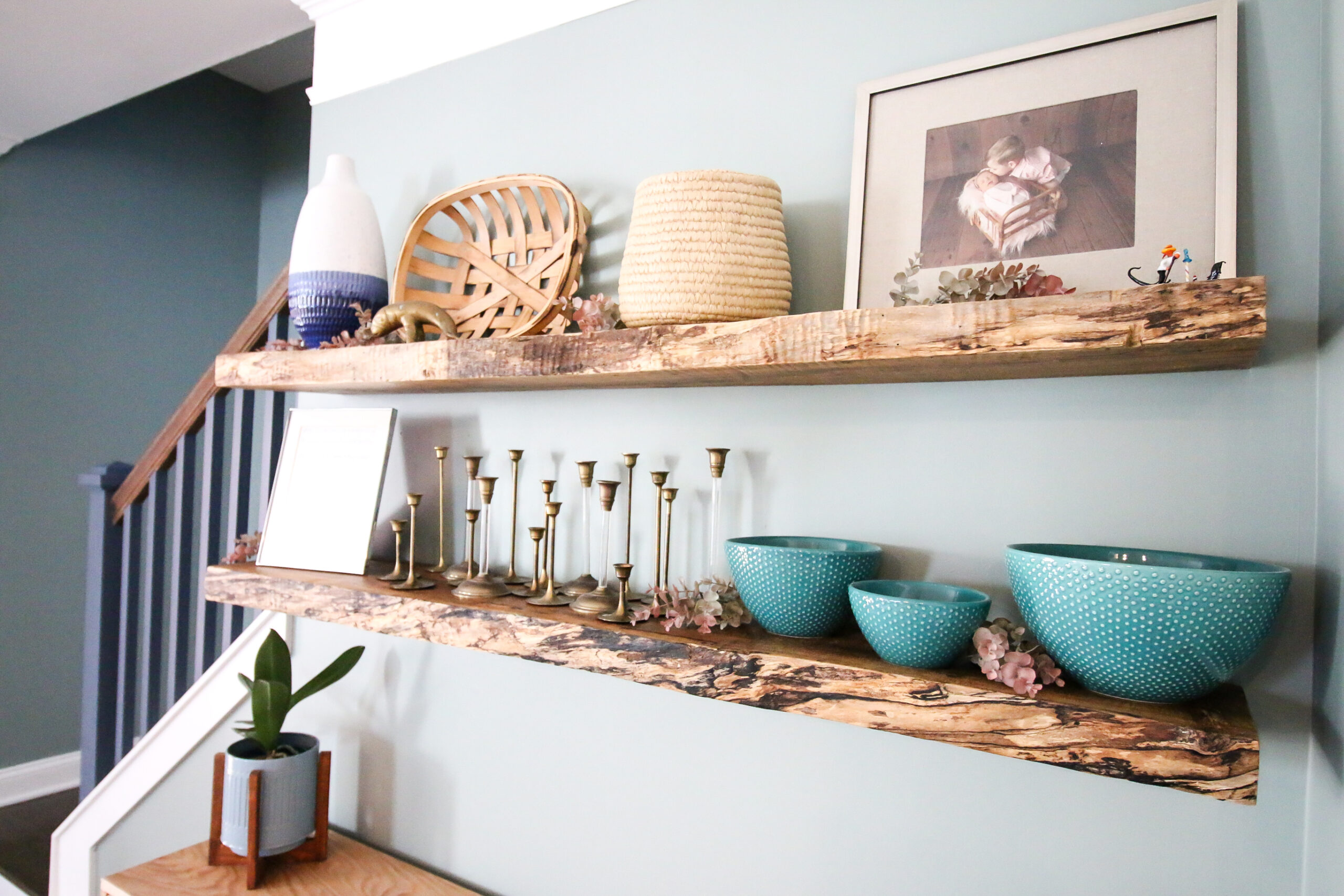 Image source: charlestoncrafted.com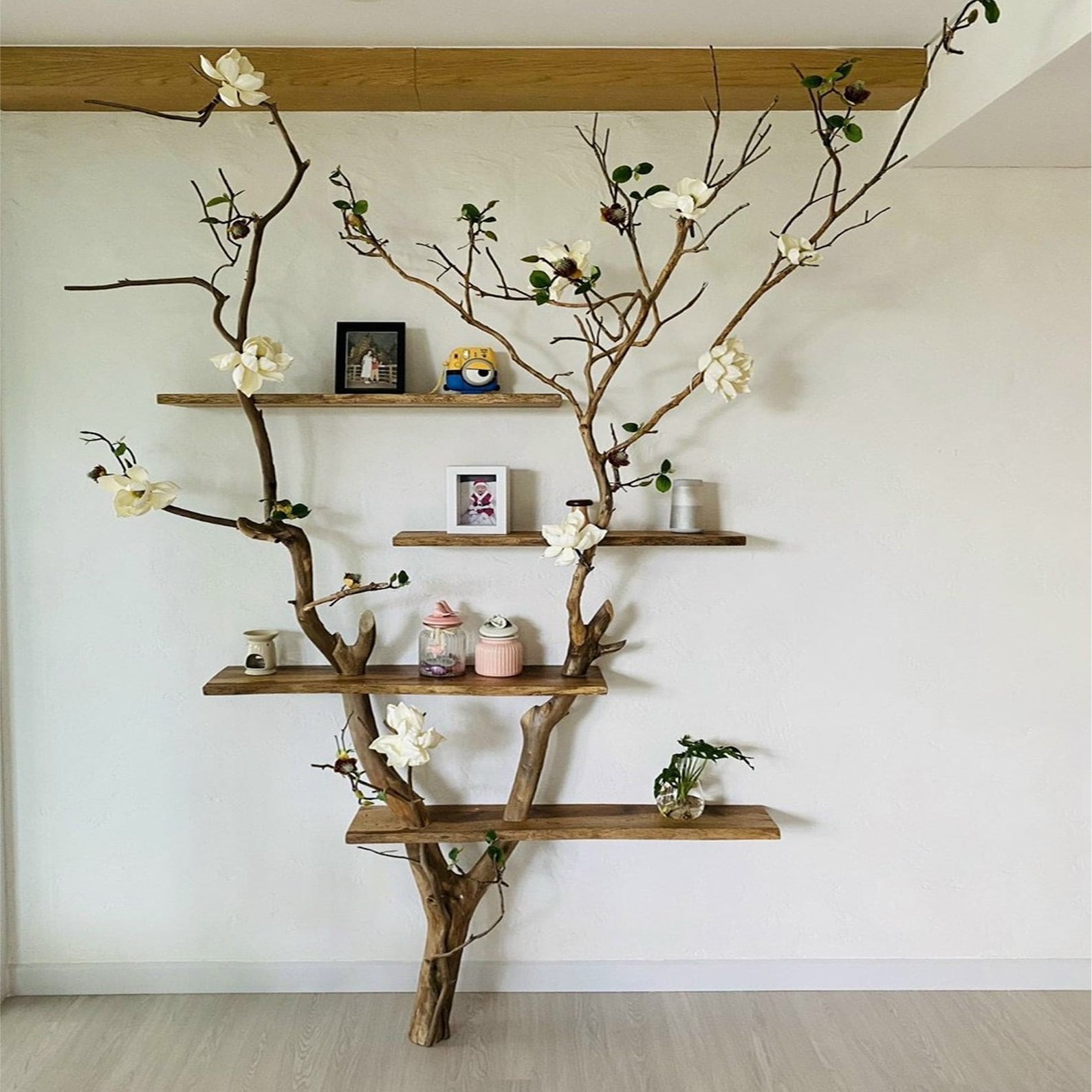 Image source: AmazingWoodIdeas from Etsy.com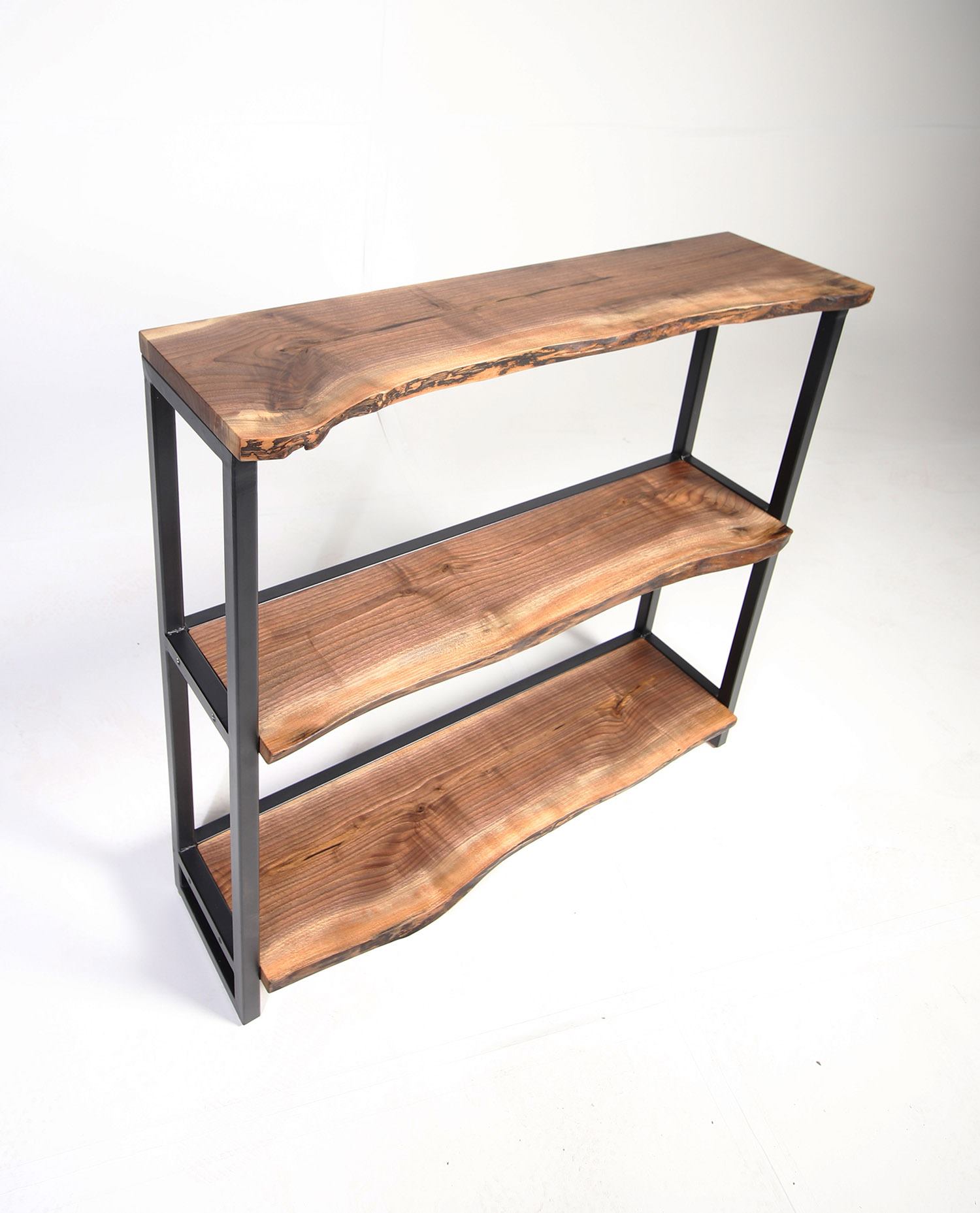 Image source: Anglewood.ca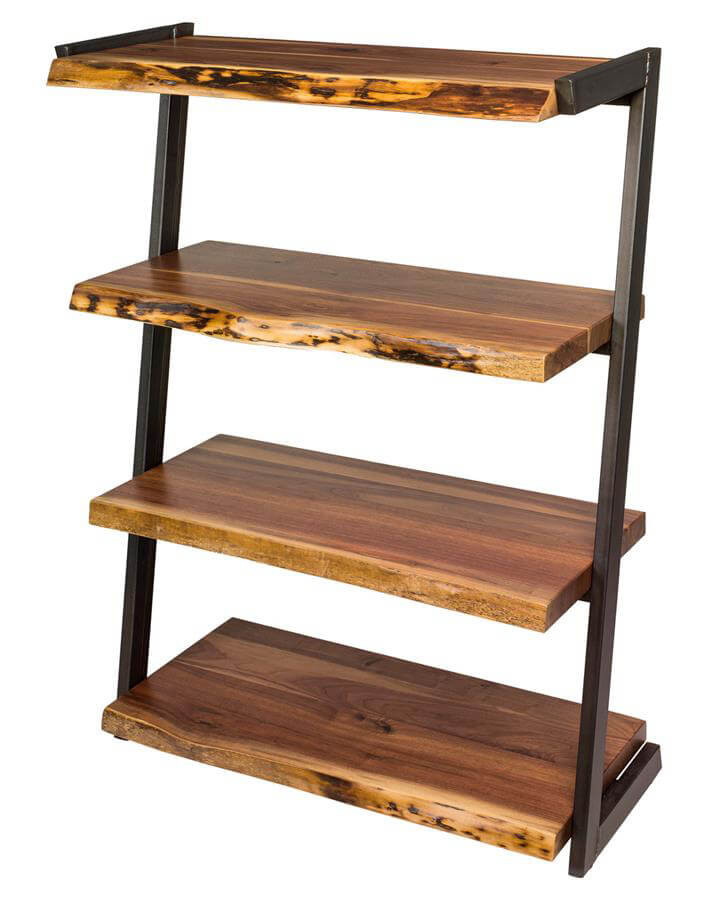 Image source: countrysideamishfurniture.com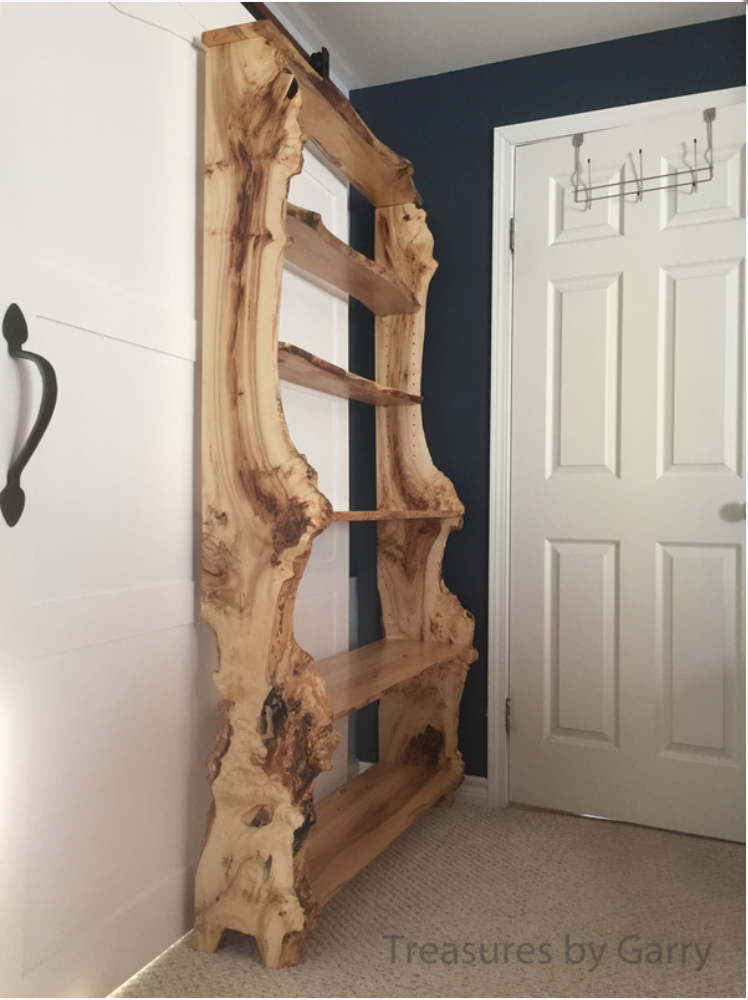 Image source: treasuresbygarry.weebly.com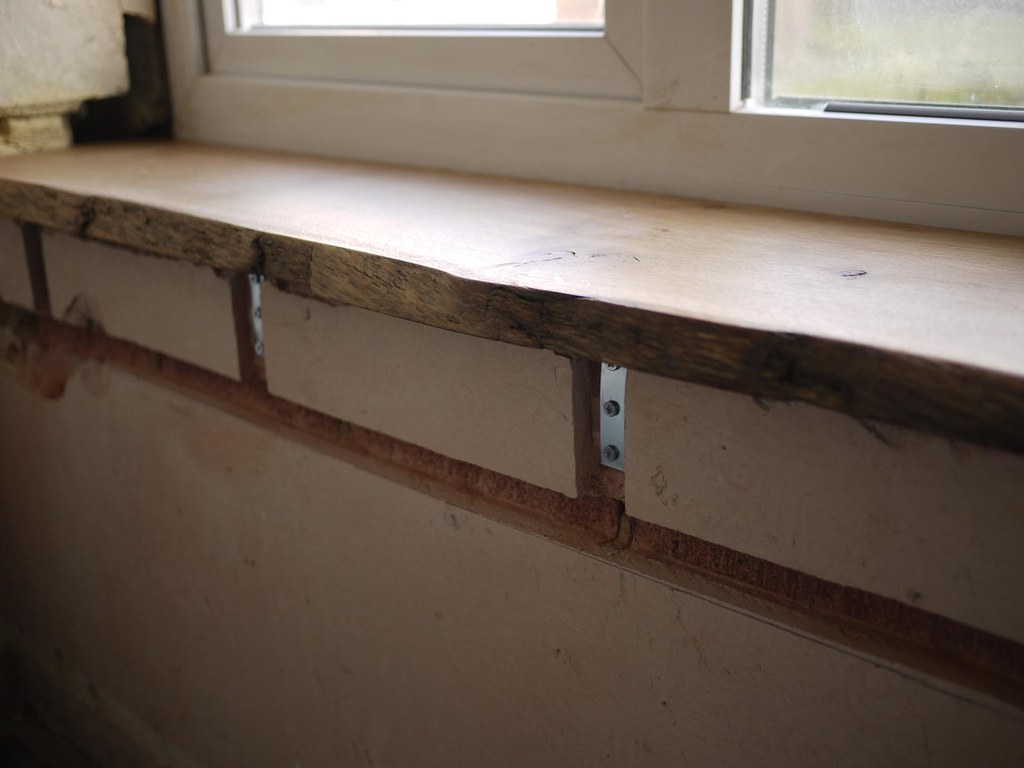 Image source: singletrackworld.com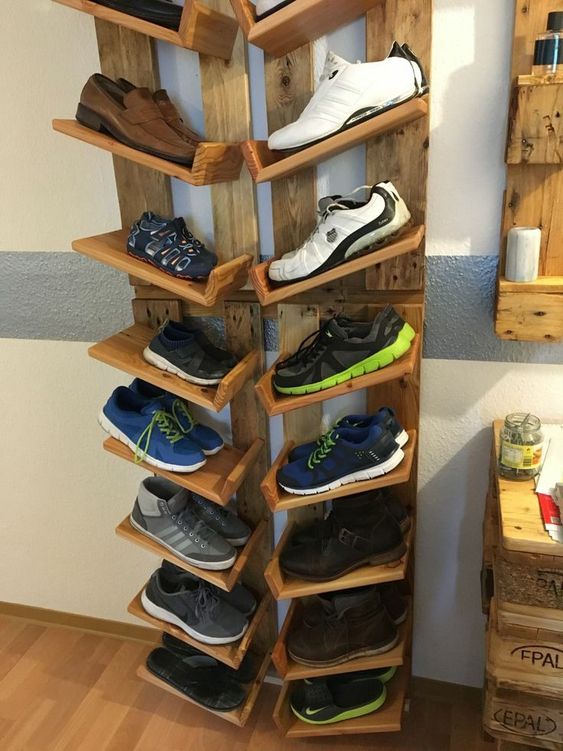 Image source: smore.com on Pinterest.com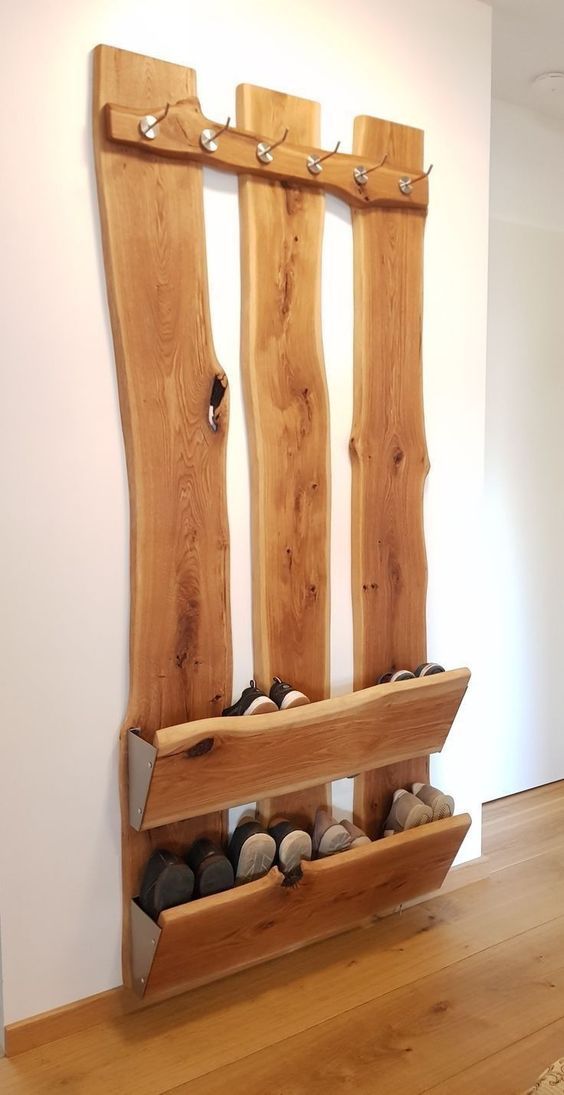 Image source: smore.com on Pinterest.com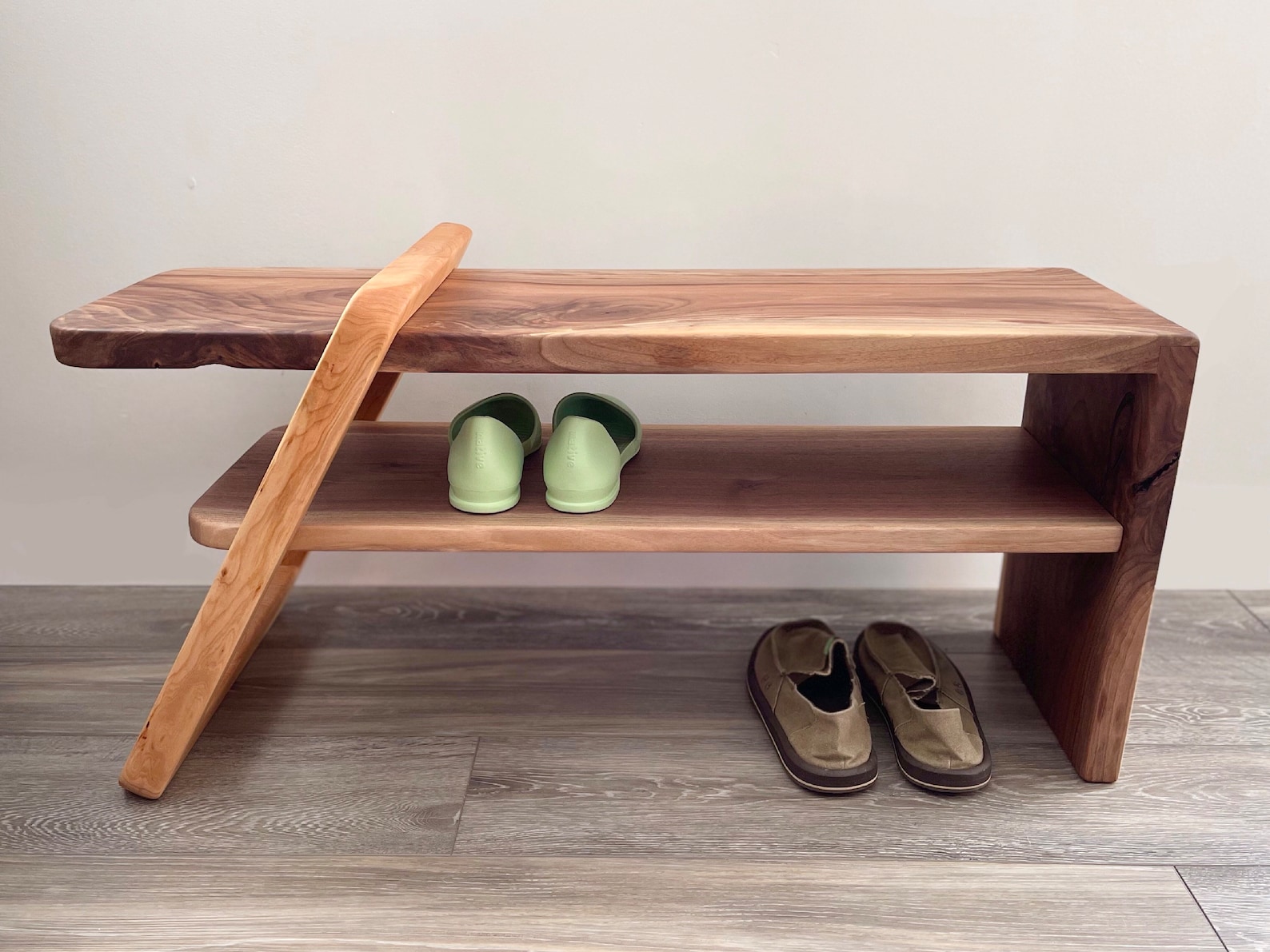 Image source: BeehiveRecess from Etsy.com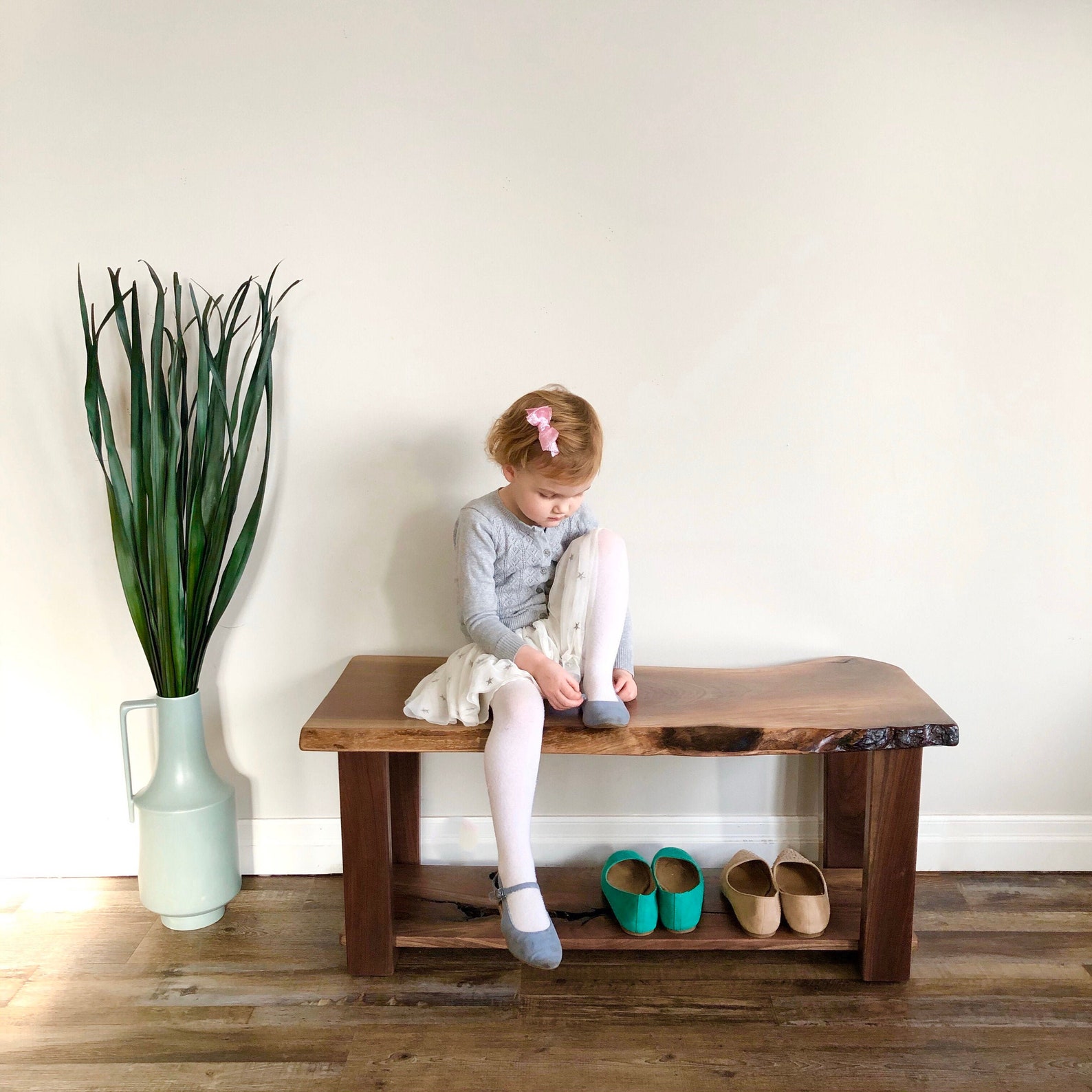 Image source: BeehiveRecess from Etsy.com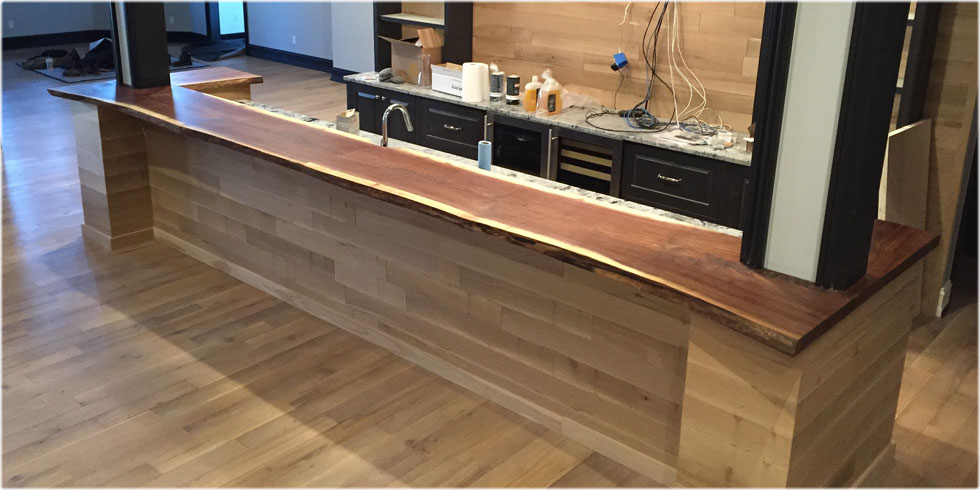 Image source: treepurposed.com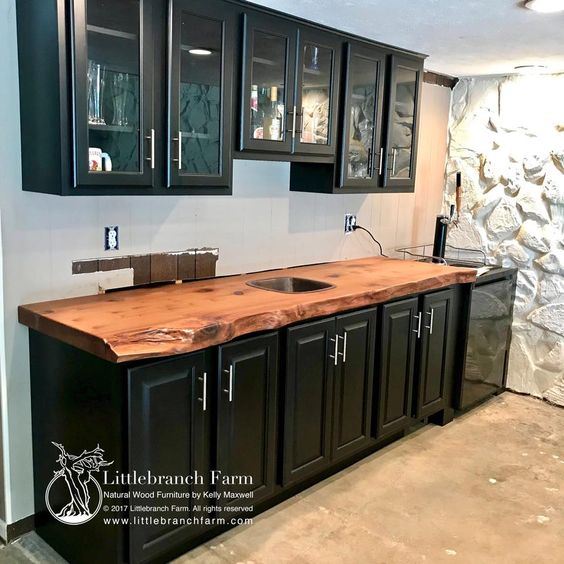 Image source: Littlebranchfarm.com on Pinterest.com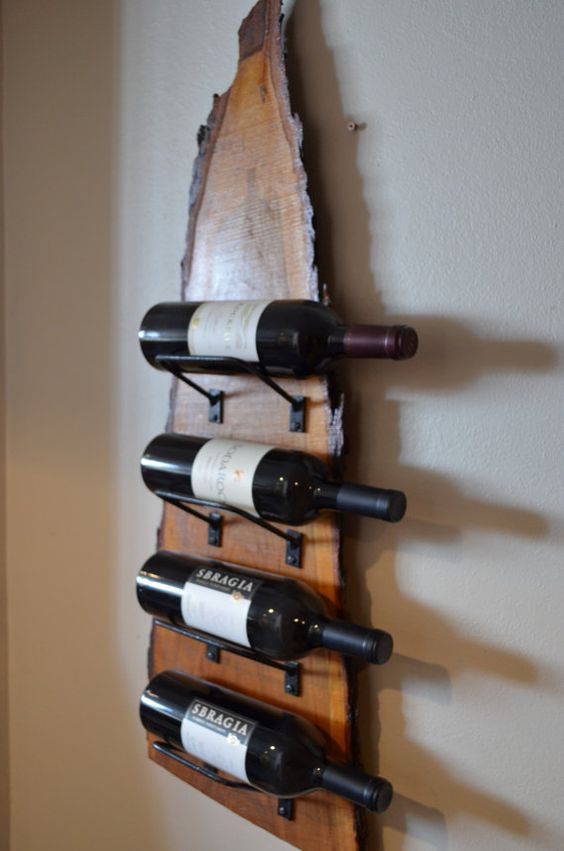 Image source: shelterness.com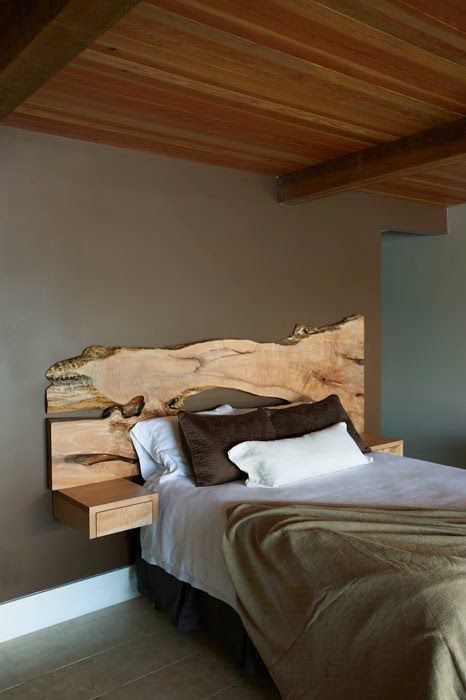 Image source: shelterness.com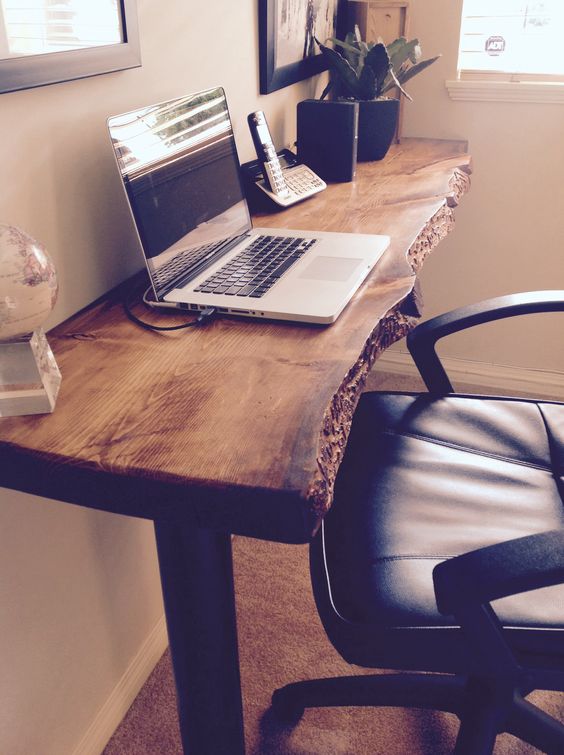 Image source: shelterness.com
- Wooden shelves for a laundry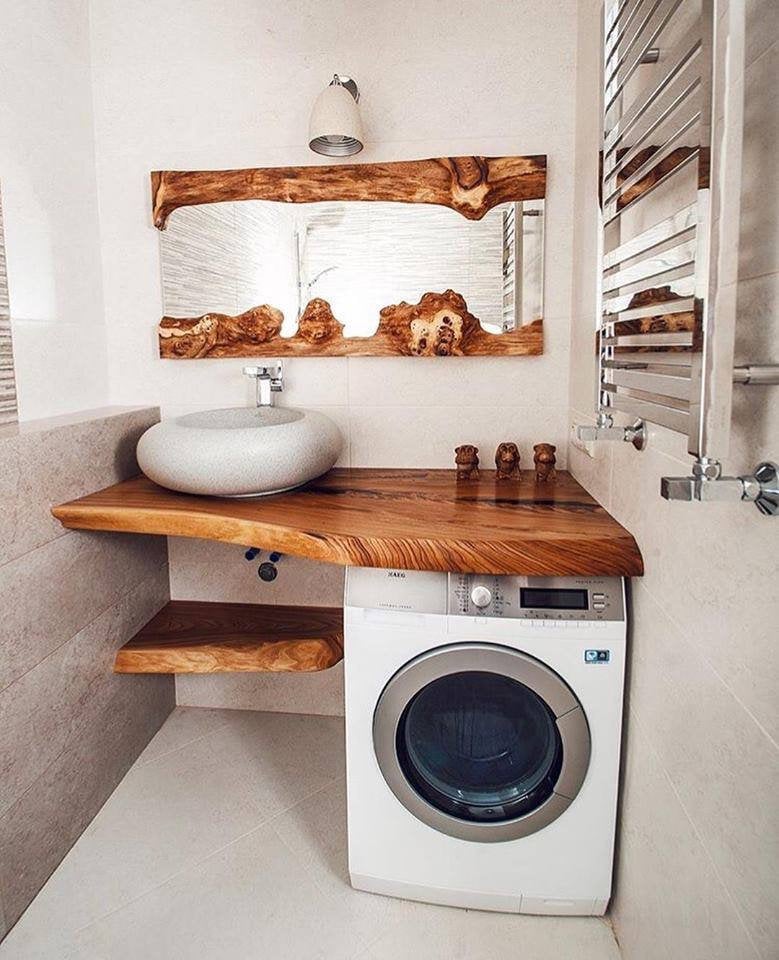 Image source: Pinterest.com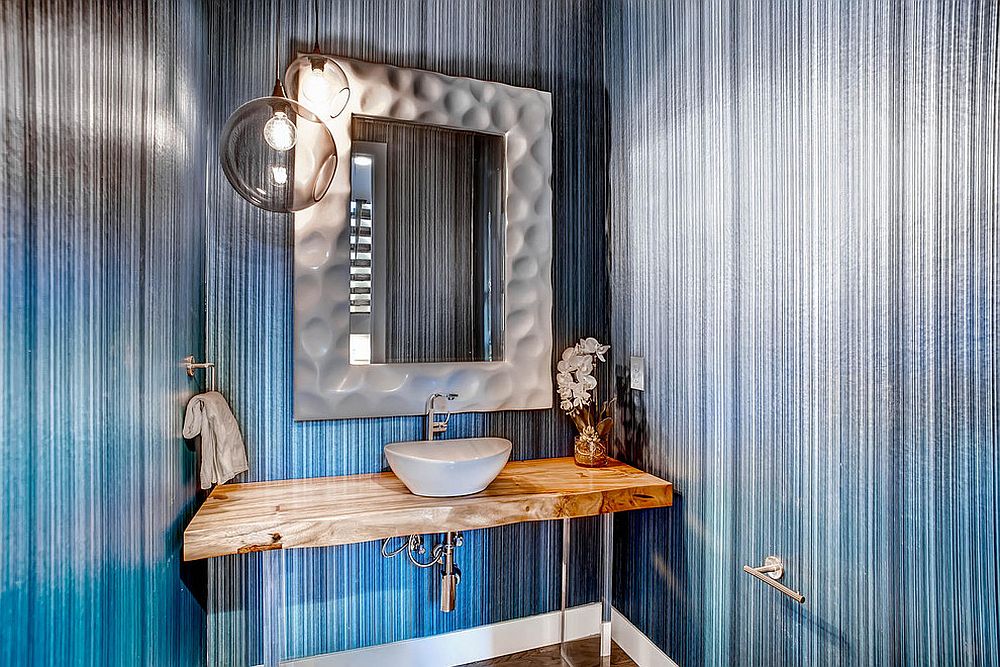 Image source: decoist.com
Outdoor live-edge ideas
You may be surprised to find out that most of the live-edge wood project ideas above can actually be implemented outdoors, adding a boho touch to your garden or patio. Live-edge dining tables, coffee tables, and benches can all be used when entertaining guests outside.
But there are even more applications you can explore. For example, an outdoor bar top built using live-edge wood can look stunning. Feel free to interpret the concept in any way you wish (size, shape, etc.), based on your needs and preferences for the space. An outdoor bar table is also a perfect place to serve some delicious summer cocktails and drinks.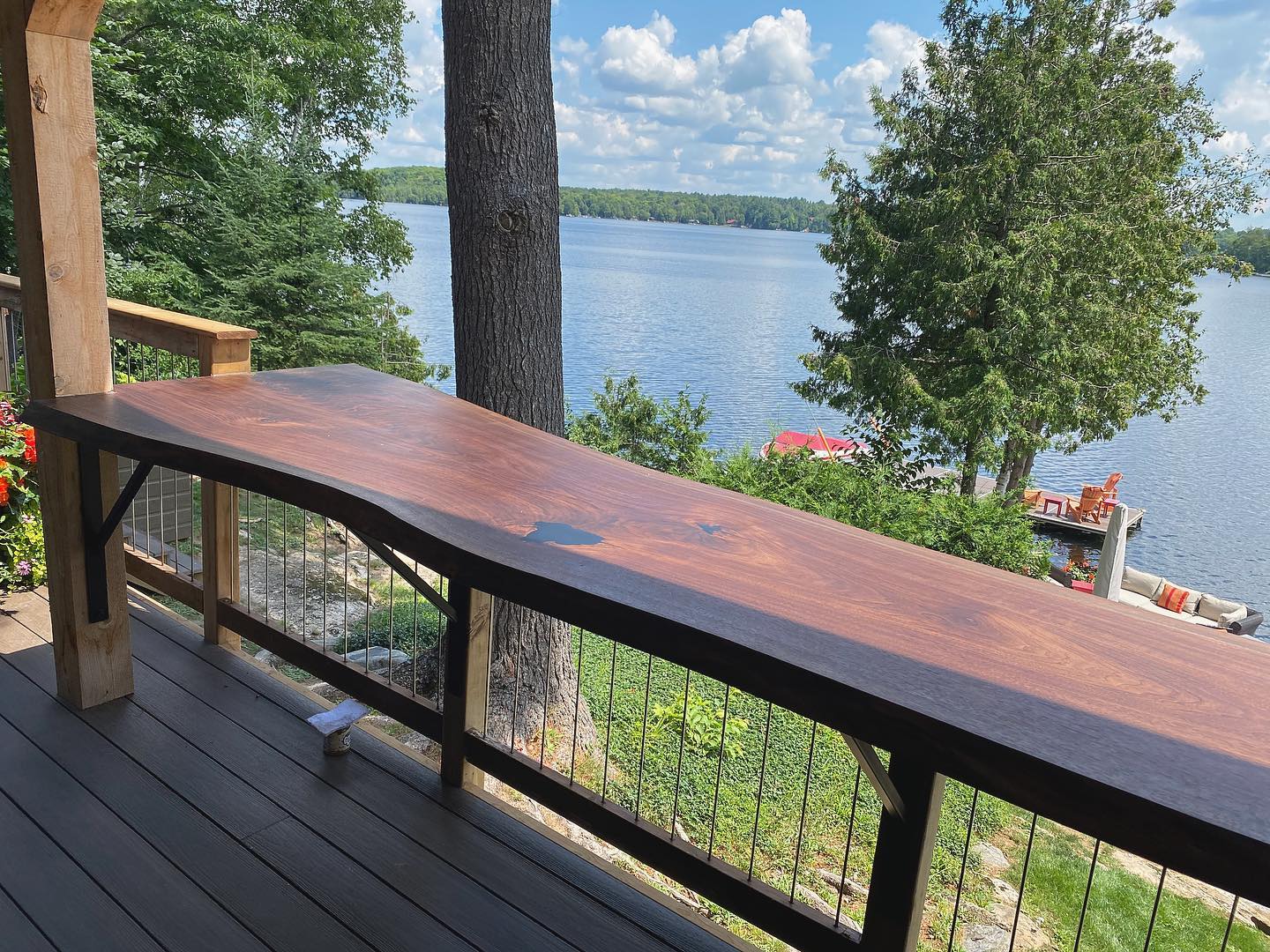 Image source: woodify.ca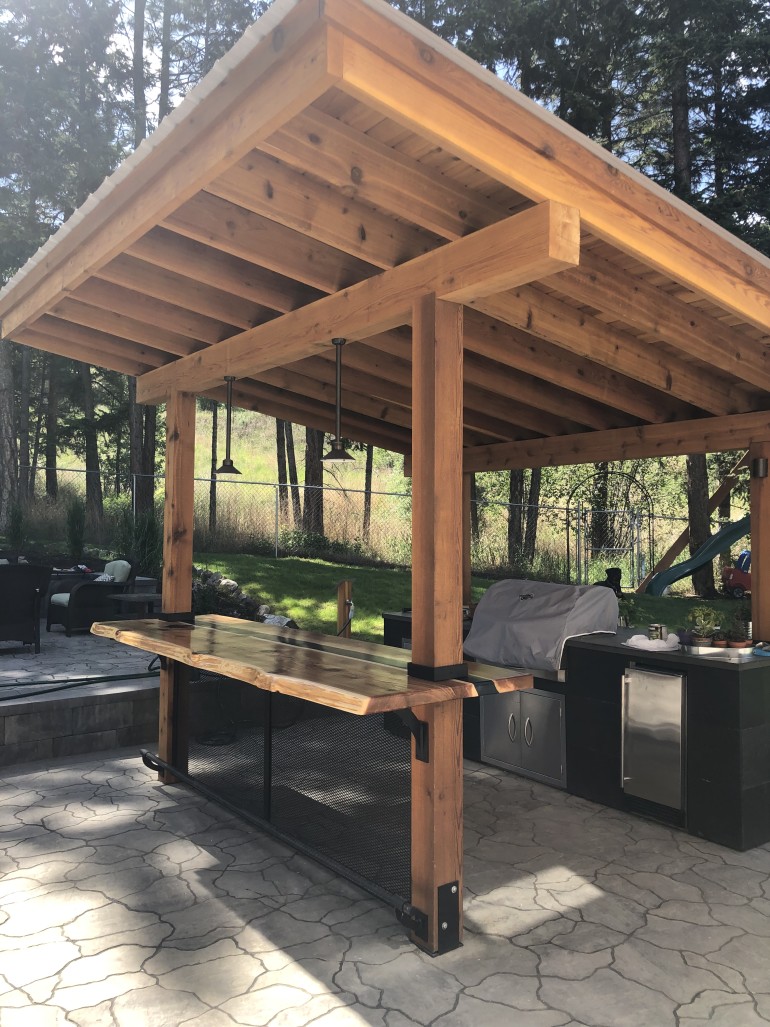 Image source: project.woodmizer.com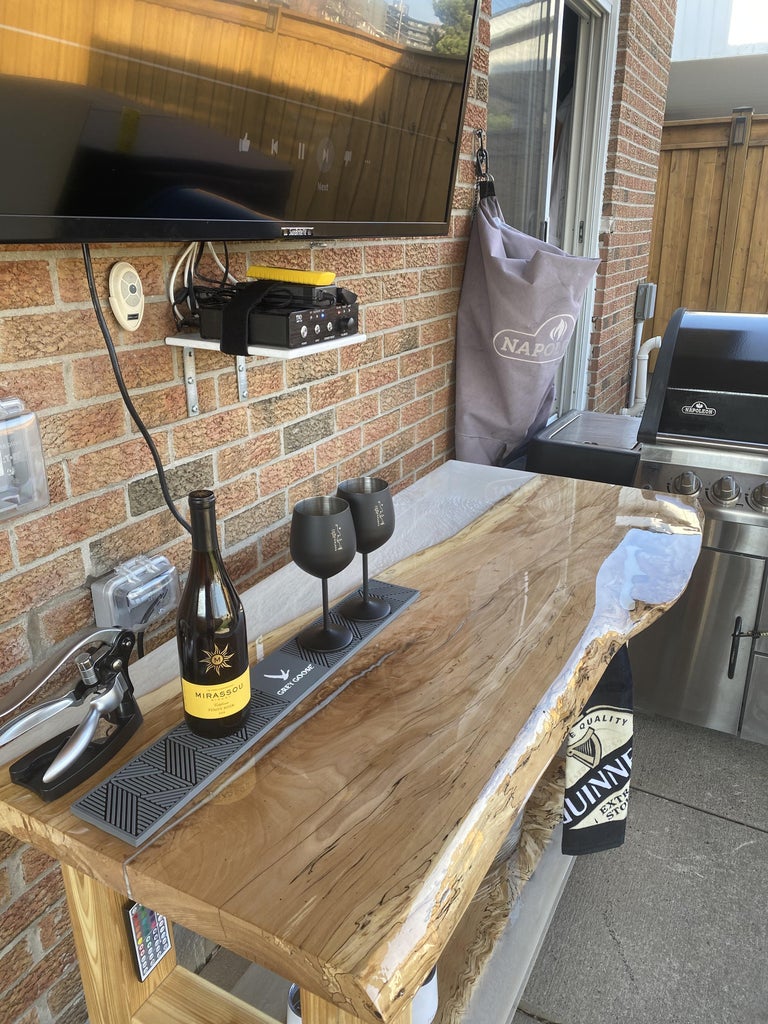 Image source: instructables.com
Choosing live-edge boards
It's important to pick the correct supplies for your project to ensure your furniture is both aesthetically pleasing and durable. Here are some specifics to keep in mind:
Live-edge boards vs. live-edge slabs
When looking at live-edge wood, you may have come across two different terms: live-edge boards and live-edge slabs. Let us take a quick look at what makes them similar and what sets them apart.
Both live-edge boards and live-edge slabs retain the natural edges of the tree. They differ, however, in their size and intended use. Live-edge boards tend to be smaller pieces. They may have bark on one or two sides of the board and are milled to a standard thickness. They're most suitable for smaller woodworking projects such as shelves, tabletops, or smaller furniture items. Live-edge slabs, on the other hand, are usually larger. Thicker and wider than live-edge boards, they're used for more prominent projects such as dining tables, countertops, bar tops, etc.
Of course, it all depends on the live-edge wood ideas you'd like to put into use. For example, Luxury Wood offers 30mm thick oak boards, as well as 50mm ones. They can be as long as 2400mm or 3000mm depending on the thickness, allowing you to cut them to size or have us cross-cut them for you using a pendulum blade.
Things to know when buying live-edge boards
The type of wood you choose depends on the woodworking project you wish to implement. Some people go for softwood, while others prefer hardwood (such as oak) due to its greater durability and natural resistance. The live-edge oak boards offered by Luxury Wood are available as both green or kiln-dried.
To take care of your live-edge boards, keep them free of water, dust them with microfiber towels, and use natural cleaning products. You can polish your furniture items with a conditioning cream to reduce scratching. Buff off any excess product to avoid build-up. If you're installing the wood outdoors, seal it beforehand to protect it from moisture, UV rays, and the elements.
We hope the live-edge wood ideas above have opened your eyes to the countless possibilities given by live-edge wood. We cannot wait to see all the furniture or decorative items you build with these beautiful boards and how this transforms your home or garden.