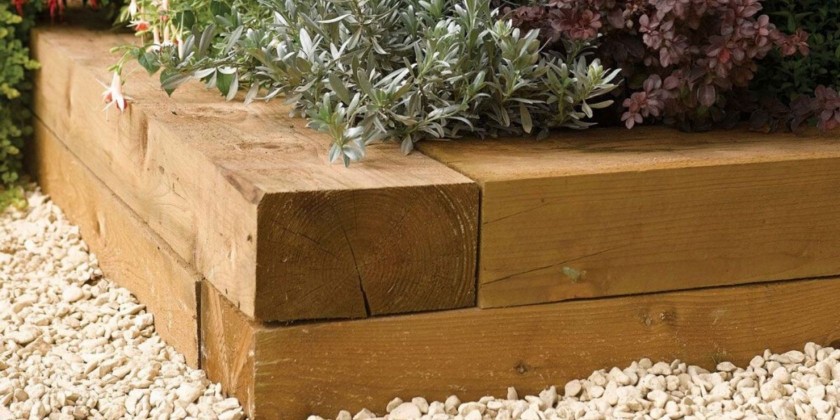 Building With Railway Sleepers - How To Cut, Lay and Join Garden Sleepers
Oak railways sleepers are amazing for landscaping, furniture or general construction. You can build raised beds, retaining walls, stairs, benches, planters, pathways, garden edging, fish ponds, and much much more. They are not only long-lasting and require no treating, but they also significantly enhance your garden aesthetics.
In this article we have answered some of the most common questions we receive on DIY building with railway sleepers.
How To Cut Railway Sleepers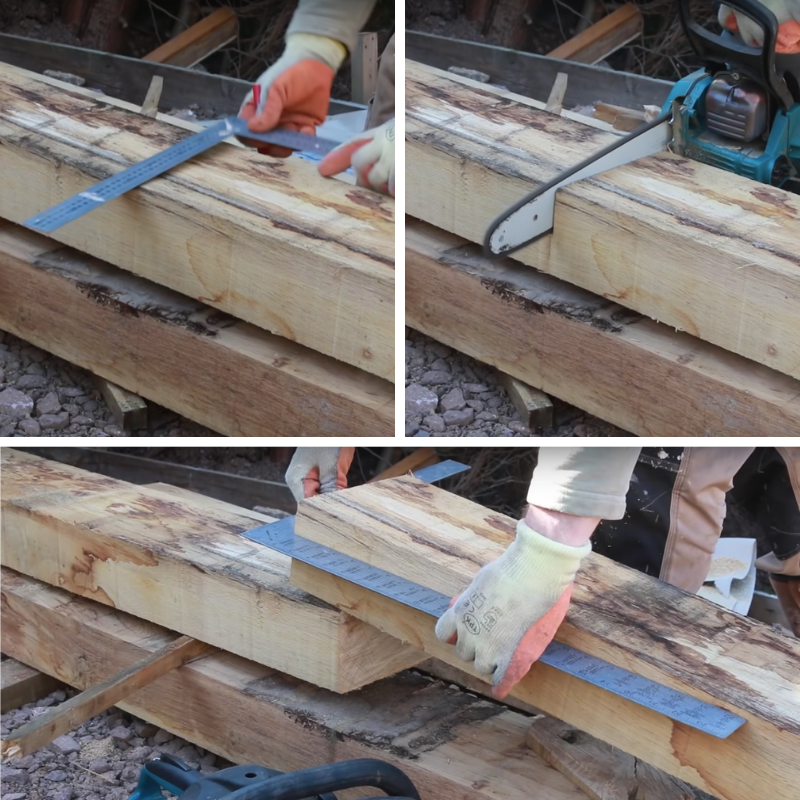 Image source: The Restoration Couple (Youtube)
Let's start with one of the most important tasks ahead of you - cutting your garden sleepers.
You have to make sure that you are measuring and cutting precisely because oak tends to shrink with time. So to make sure you fix your sleepers as tightly as possible, measure everything twice.
Cut your sleepers with a circular saw or a chainsaw by slowly making clean, straight cuts. Use a square angle ruler to make sure your sleepers will fit perfectly. Alternatively you can ask for sleepers to be precut which The Luxury Wood Company is happy to do.
Watch this video for more cutting tips:
How To Lay Garden Sleepers?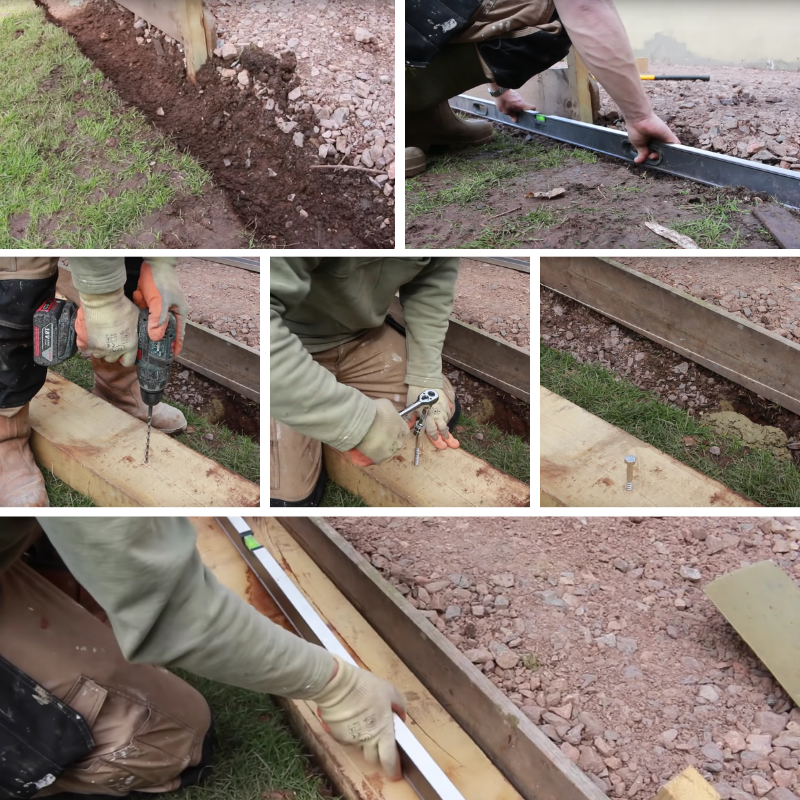 Image source: The Restoration Couple (Youtube)
Here is what you need to do if you wonder how to fix railway sleepers to the ground:
Firstly, pick and outline the place where you'll be laying the sleepers.

Dig a shallow trench.

The best option for a foundation is concrete, gravel and sand, which you will use to anchor your sleepers with stainless steel fixings.

Important notes: Placing sleepers directly on top of soil may cause your wood to rot quicker due to water pooling. Using stainless steel fixings is important or otherwise the natural chemicals inside the oak timber will eat away the screws.

Make sure to level your foundation as best as you can.

Use a spirit level to ensure each sleeper is leveled to the ground.
Check out this video to see the exact steps:
How To Fix Sleepers Together
As mentioned above, it's important to use stainless steel crews to fix your sleepers together. You need to choose screws that will penetrate significantly into both sleepers. Don't forget to pre-drill before putting the screw in, to reduce splitting. Oak sleepers are very heavy, so you can also use oak rods or stainless steel poles for stability.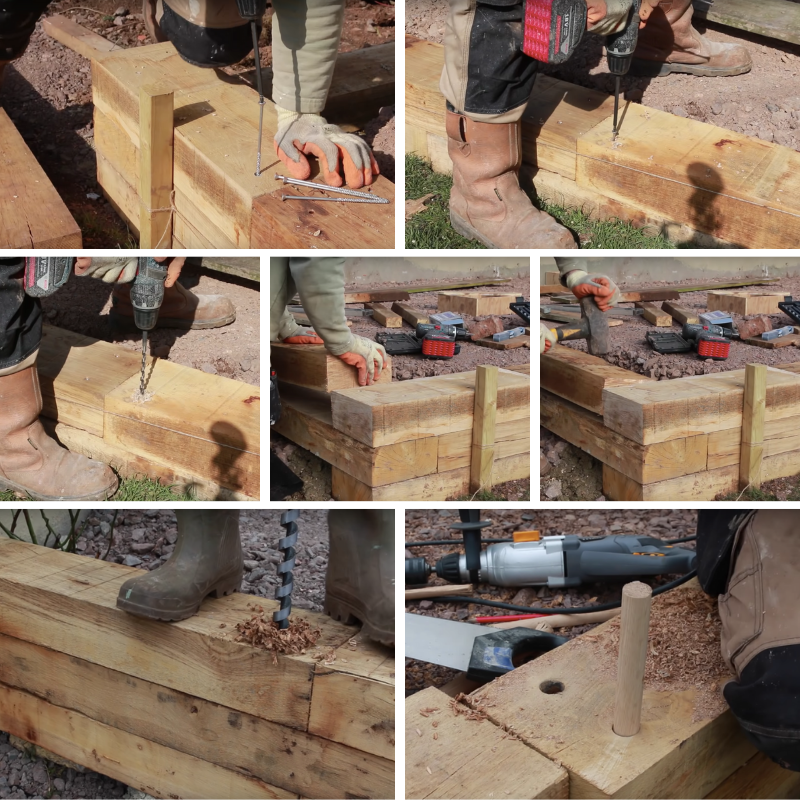 Image source: The Restoration Couple (Youtube)
Watch this video to see how to fix your sleepers together for improved stability with oak rods:
How Long Will Oak Sleepers Last And Do They Need Treating?
Unlike softwood sleepers that usually last from 2 to 15 years, oak sleepers are highly resistant to decay and can last for many more years in the right conditions untreated. They also maintain colour, which is great for rustic beds.
All of our oak sleepers are green, untreated and they do not need any treating. The natural tannins in oak are the most effective preservative compared to any man-made alternatives.
Ready To Buy Your Oak Sleepers And Start Building?
Our new untreated oak sleepers are perfect for all your gardening projects. They do not require anti-rot treatment as they are highly resilient to weather and rain. The naturally long lasting oak is probably the best choice for raised beds and borders, steps, pathways, retainer walls, and even furniture.
Order your garden sleepers online today and start working on your amazing landscaping projects:
See how our customers have used the green oak sleepers they purchased on our website.
Enjoyed this guide? Subscribe for our email newsletter to get £10 OFF on your first order and be the first to hear about our newest deals and discounts.