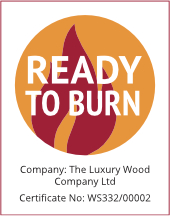 Eco firewood briquettes, made by a heavy-duty mechanical press, creating an incredibly dry, long-lasting heat log.
Our oak briquette logs are made of 100% oak hardwood shavings, without any artificial additives and chemicals needed. These wood logs are a premium product that produces fantastic heat and has a very high calorific value.
- No additives, binding agents, or chemicals
- Made from Oak / Hardwood
- 4.9kwh/kg
- Weight Per Pack 5 Kg
- Produced from sustainable sources
- No harmful substance release
- No unpleasant odour
- Sturdy packaging
- Packing may differ from the method pictured here.
How to use and store oak firewood briquettes?
Use half of the capacity of your firebox, compared to what is usually ideal. The oak briquette logs burn significantly hotter than other logs. They expand slightly in the fire, and it is crucial not to overload the firebox.
It is recommended to load at least three briquettes at any given time. They are a convenient size, so they are excellent for a smaller stove or open fire, but they are still chunky enough to provide a perfect burn time.
To maximise performance, get the fire hot before turning down the airflow and refuelling as required.
The oak firewood briquettes need to be kept dry. They must be stored in undercover, dry conditions to retain their excellent burning qualities.